Chicken Bacon Ranch Wraps
Chicken Bacon Ranch Wraps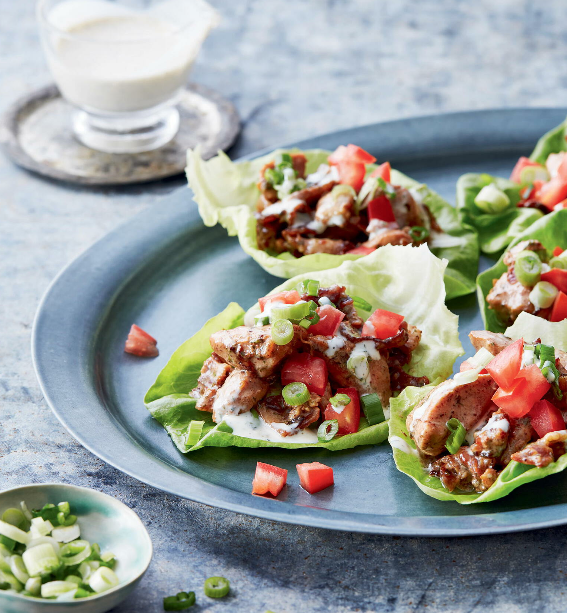 Chicken Bacon Ranch Wraps
Wraps that rival your favorite sub shop? I've got you covered. I'm not kidding, they're that good. Super low in carbohydrates, high in healthy fats and protein, this is a great lunch for keto lovers. Meals like these are great because the heart of the dish is the same, but you can doctor it to suit all of your family's preferences. Enclose in a tortilla, stuff in a pita or wrap in lettuce.
8 ounces nitrate-free bacon, diced
½ yellow onion, diced
1 pound boneless skinless chicken breasts, cut into 1-inch cubes
½ tsp. fine sea salt
¼ tsp. ground black pepper
2 T. salted butter or ghee
2 tsp. dried parsley
1 tsp. garlic powder
½ tsp. dried minced onion
½ C. Ranch Dressing, plus a couple T. for drizzling
1 head butterhead lettuce, rinsed and separated
1 Roma tomato, cored and diced
2 Green Onions, chopped
Preheat an electric pressure cooker using the SAUTÉ function. After pressing the SAUTÉ button, press the ADJUST button until MORE is highlighted (see Note below). When the display panel reads HOT, add the bacon and diced onion to the pot. Cook, stirring, until the bacon is crispy, about 10 minutes. If it begins to stick to the bottom of the pot, add 1 T. of the butter. Use a slotted spoon to transfer the bacon and onion to a paper towel. Leave all those delicious juices in the pot. Season the cubed chicken breasts with the sea salt and black pepper. Add the remaining butter to the pot and then the chicken. Cook, stirring the chicken, until it browns on all sides, about 5 minutes. Add the parsley, garlic powder, and dried onion, then stir. Place the lid on the pressure cooker. Make sure the vent valve is in the SEALING position. Using the display panel, press the CANCEL button. Select the MANUAL/PRESSURE COOK function and HIGH PRESSURE. Use the +/− buttons until the display reads 4 minutes. When the pot beeps to let you know it's finished cooking, let it naturally release pressure until the display reads LO:10. Switch the vent valve from the SEALING to the VENTING position. Use caution while the steam escapes—it's hot. Using the slotted spoon, transfer the chicken to a separate bowl. Add ½ C. ranch dressing and the bacon/onion mixture to the chicken and combine. Spoon the chicken mixture on the lettuce leaves. Top with the tomatoes, green onions, and a drizzle of ranch dressing, and wrap the leaves around the mixture to serve. Note: Your pot might not have an ADJUST button; if that is the case just press the SAUTÉ button until MORE is highlighted.