Instant Pot Stovetop-Style Mac n Cheese
Instant Pot Stovetop-Style Mac n Cheese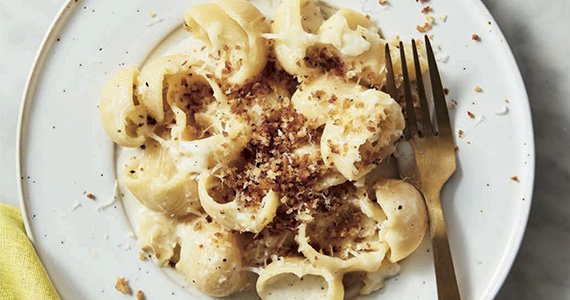 Instant Pot Stovetop-Style Mac n Cheese
3 T. unsalted butter
1 medium onion, finely chopped (optional)
1 pound short pasta, such as shells or elbows
4 cups chicken or vegetable broth
2 tightly packed cups shredded Cheddar-jack-mozzarella cheese blend
11⁄4 tightly packed cups shredded Gruyère, sharp Cheddar, or Gouda
1⁄4 cup grated parmesan cheese 1⁄2 cup whole milk
2 tsp. Dijon mustard (optional)
1⁄2 tsp. freshly ground black pepper, plus more as needed
Fine sea salt
Pinch of paprika (optional)
Add the butter, onion (if using), pasta, and broth to the inner pot of the pressure cooker. Lock on the lid and Pressure Cook on high pressure for 6 minutes. Release the pressure manually (be careful—it will sputter; cover the valve with a cloth to catch some of the mess).  Open the lid and stir in all the cheese, the milk, mustard (if using), and 1⁄2 tsp. pepper. Add salt to taste.  Let the pasta stand in the cooker on the Keep Warm setting for 5 minutes to thicken slightly. Serve warm, with a sprinkle of extra pepper and the paprika, if desired.
Cook's Note:  Bubbly Cheese-Topped Mac: If you like your mac 'n' cheese full-on in the cheese department, transfer the finished dish to a buttered 2-quart casserole, preheat the broiler and cover the casserole with 4 thin slices sharp Cheddar, mozzarella, or a mix of the two. Place on the lower rack and broil until the cheese is bubbly and golden.
Craving a Golden Cracker: If you're in the crispy bread- crumb topping camp regarding your mac 'n' cheese, this make-ahead is for you. Preheat the broiler. Combine 1 cup panko bread crumbs with 2 T. melted butter in a small bowl. Spread out on a sheet pan and broil until golden brown, 1 to 2 minutes. Let the crumbs cool completely, then use or store in an airtight container for up to 5 weeks. This topping is great sprinkled over mac 'n' cheese but also on creamy beans or atop perfect soft-boiled eggs.