Nepalese Vegetable Momos
Nepalese Vegetable Momos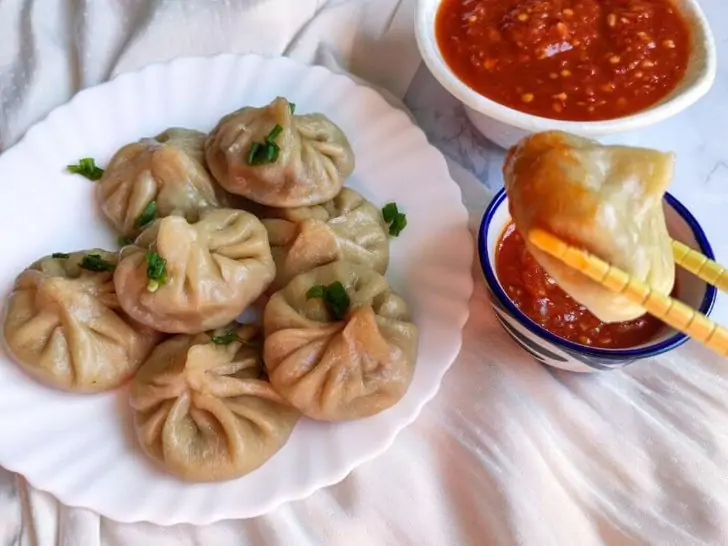 Nepalese Vegetable Momos
1.5 C. all-purpose flour maida
1 T. cooking oil
Salt as per taste
1/2 C. water or as required to knead a smooth elastic dough
Ingredients for the momos stuffing
2/3 C. cabbage finely chopped
2/3 C. carrot finely chopped
1/2 C. capsicum finely chopped
1/2 C. onion finely chopped
2 T. spring onion finely chopped
1 tsp. grated ginger
1 tsp. grated garlic
1 T. vinegar
1 tsp. black pepper powder
Salt as per taste
1 tsp. any cooking oil of your choice
Mix all the ingredients of dough and knead to make a smooth dough. Cover it with a wet cloth and keep aside. In a pan heat oil, add ginger, garlic, and onion. Sauté for around 30 seconds and then add all the remaining vegetables. Add salt, pepper, vinegar and stir fry till the moisture evaporates. Switch off the gas and keep the stuffing aside till it reaches room temperature. Make same sized, small balls of dough. Keep them covered under a wet cloth. Take one dough ball at a time; flatten it by pressing between your palms. Dust with some dry flour and roll it into a thin disc with the help of a rolling board and pin. Now put around 3/4 T. stuffing in the middle of a disc. Lift the edges from all sides and start pleating to bring them to the center. Pinch them together to join at the center. Make momos from the remaining balls in a similar way. Now grease the surface of your steamer's plate. Place the momos on it and steam for around 20 minutes or till they become translucent. Serve hot with momos chutney! Or savory dipping sauce.
Savory Dipping Sauce
1 C. distilled white vinegar
1 C. sugar
¼ C. soy sauce
1 C. ketchup
1 tsp. cornstarch
Place the vinegar, sugar, soy sauce, and ketchup in a small pot over medium heat. Bring to a boil, stirring, until the sugar is dissolved, about 5 minutes. 2 Combine the cornstarch and 1 T. of water in a small bowl and whisk together with a fork. Stir into the sauce, then bring the sauce to a boil over high heat and boil until thickened, about 1 minute. Serve alongside the momos. Any extra sauce can be refrigerated in an airtight container for up to a week. Bring to room temperature before serving.
Yield: 12 dumplings
1 dumpling
Calories: 80
Fat: 2g
Fiber: 1g