Mushroom, Grape & Blue Cheese Tartines
Mushroom, Grape & Blue Cheese Tartines
Mushroom, Grape & Blue Cheese Tartines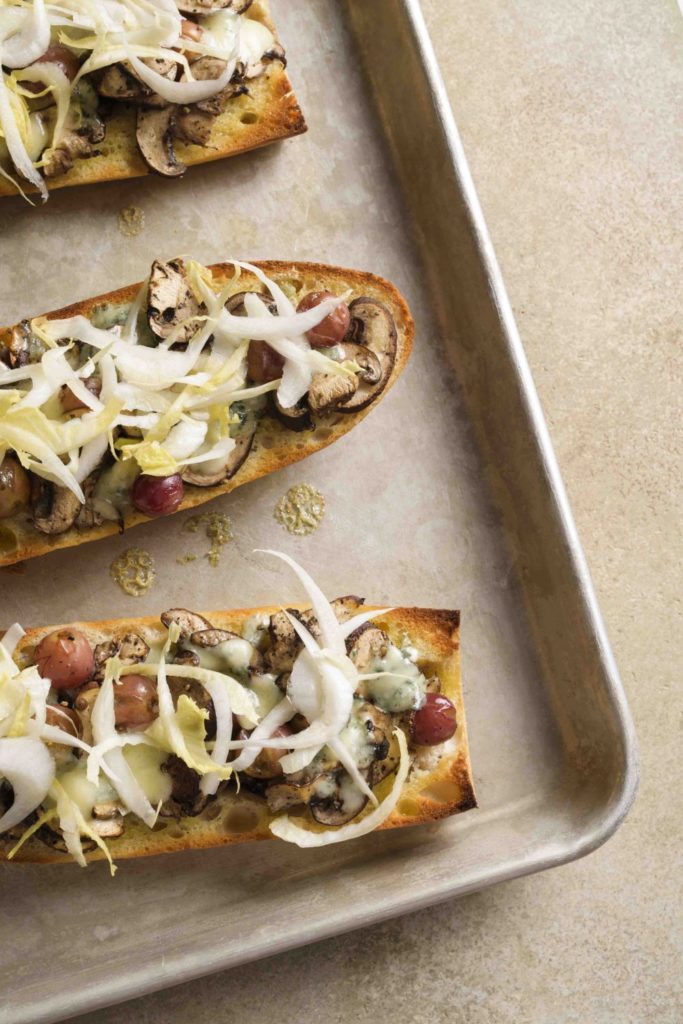 Don't slice the endive in advance because the cut surfaces will oxidize and discolor. Wait until the tartines are under the broiler before slicing, and toss with the vinegar right away, as the acid slightly slows discoloration.
10- to 12-ounce baguette, halved crosswise and split in half lengthwise
4 T. extra-virgin olive oil, divided
1 medium garlic clove, peeled and halved
10 ounces cremini mushrooms, trimmed and thinly sliced
1 cup small seedless red grapes
1 T. plus 2 tsp. white balsamic vinegar, divided
Kosher salt and ground black pepper
2 ounces cream blue cheese, crumbled (½ cup)
1 medium head endive
Heat the broiler with a rack about 6 inches from the element. Pull out some of the interior crumb from each piece of baguette, slightly hollowing out the centers and creating boat shapes. Place the bread cut side up on a rimmed baking sheet. Brush with 3 T. of the oil, then rub with the cut sides of the garlic clove; discard the garlic. In a medium bowl, toss together the mushrooms, grapes, the 1 T. vinegar, the remaining 1 T. oil and ½ tsp. each salt and pepper. Divide the mixture evenly among the baguettes; reserve the bowl. Broil until the edges of the bread are toasted, the grapes begin to burst and the mushrooms begin to brown, about 4 minutes. Meanwhile, trim the endive and thinly slice it on the diagonal. In the reserved bowl, toss the endive with the remaining 2 tsp. vinegar; set aside. Remove the baking sheet from the oven and sprinkle the tartines with the cheese, dividing it evenly. Continue to broil until the cheese is melted, about 1 minute. Remove from the oven, then top with the endive.