Pesto and Ricotta Filled Spinach Crepes with Pomegranate
Pesto and Ricotta Filled Spinach Crepes with Pomegranate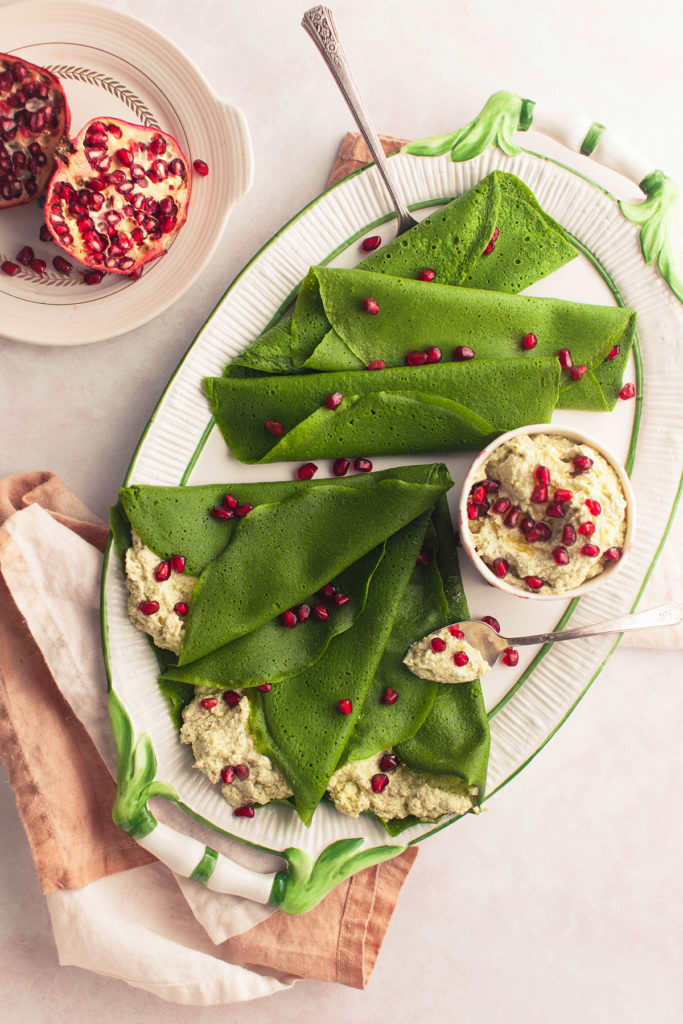 Pesto and Ricotta Filled Spinach Crepes with Pomegranate
For the Crepes:
1 cup milk
1 cup flour
2 eggs
2 T. Olive Oil, plus more for cooking the crepes.
1 cup frozen spinach
Pinch of salt
For the Filling:
16 oz ricotta cheese
1 jar Colavita Pesto
For the Topping:
Fresh or frozen pomegranate seeds
Add all the crepe ingredients to a blender and purée until smooth. Pour it into a bowl. Heat a crepe or frying pan over medium-low heat. Drizzle the pan with about 1 tsp. of Olive Oil. Ladle a scoop of the crepe mixture into the hot pan and swirl it around the surface of the pan, so that there is a thin, even layer. Allow it to cook for about 1-2 minutes and flip. Cook another minute. Slide the crepe from the pan onto a dish. Oil the pan again and repeat with the remaining batter. For the filling: In a small bowl, mix together the ricotta and the pesto. To assemble: Spoon the cheese and pesto mixture into the center of the crepe and fold in thirds. Garnish with pomegranate seeds and serve alongside remaining cheese.