Ricotta with Pesto Swirl Dip
Ricotta with Pesto Swirl Dip
Ricotta with Pesto Swirl Dip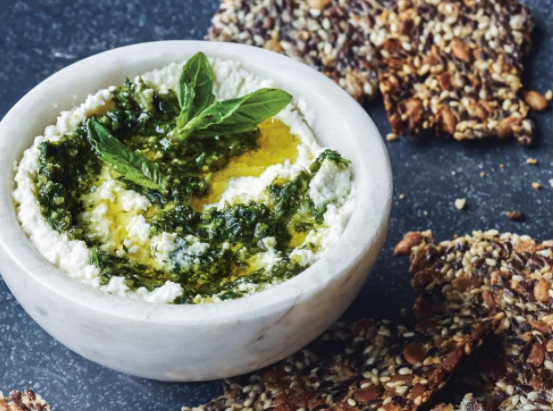 Creamy ricotta with a pinwheel pattern of fresh basil pesto invites you to dive in with vegetables or Seedy Crackers. Pesto freezes well. It's a good idea to make a big batch when basil is plentiful in summer and early fall.
2 big bunches fresh basil
4 garlic cloves
¼ C. Pine Nuts
1 oz. Parmigiano- Reggiano or Pecorino
½ C. olive oil, plus more for serving
1 lb/450 g ricotta
Assemble, prepare, and measure ingredients. Pick basil leaves from stalks and discard stalks. Poach garlic by immersing whole unpeeled cloves in a small pot of cold water; bringing to a boil over medium-high heat, draining, and repeating once. Slip off skins. Heat pine nuts in a small Salt and pepper skillet over medium heat just until golden and aromatic. Grate cheese.  In a blender or food processor, combine three-quarters of the basil leaves with poached garlic cloves, pine nuts, and olive oil. Transfer to a bowl and stir in cheese. Season with salt and pepper. Smooth ricotta in an even layer over a serving plate. Swirl in pesto to make a pinwheel pattern. Scatter remaining basil leaves over top and drizzle with some olive oil. Season with more salt and pepper.