Asian Hot Pot of Bison Tenderloin and Homemade Udon Noodles
Asian Hot Pot of Bison Tenderloin and Homemade Udon Noodles
Asian Hot Pot of Bison Tenderloin and Homemade Udon Noodles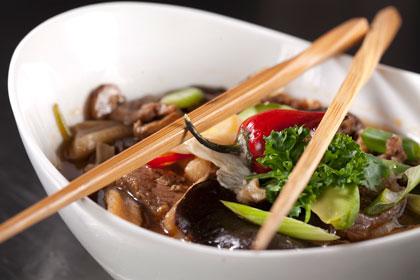 3 C. All Purpose Flour
1 T. Salt
1 cup Water
4 oz White Miso
32 oz Beef Broth
1 cup rehydrated mushrooms
1 tsp. grated fresh ginger
1 stalk lemon grass (bruised and chopped)
2 cloves fresh garlic (crushed)
1 bunch Cilantro stems, chopped
2 tsp. Fish sauce
4 T. soy sauce
2 T. rice wine vinegar.
2 T. mirin
1 tsp. sriracha
Pickled Diakon
Thin Sliced Jalapeno
Cleaned Cilantro Leaves
Chives or Green Onions
Thin Sliced Avocado
Poached Quail Egg
Cooked Bison Tenderloin Strips
Incorporate flour, salt and water; mix well, Kneed for 5 minutes, add to rolling salted water, cook until tender. Immediately ice bath once they are complete.
Thinly slice 2 lb. bison tenderloin and marinate in 16oz water, 1 T. Chili Oil, 2 T. Soy Sauce, 2 Garlic Cloves.
Bring ingredients (white miso to garlic) to a full simmer, add cilantro, re-season. And continue to simmer for 15 minutes. Add ingredients (fish sauce to sriracha) to broth, one at t time, stirring between. While stock is simmering, adjust seasoning.  Quickly stir fry bison to desired doneness.  Begin to add the ingredients to the soup – 2 ounces of Udon Noodles, 3 ounces of broth, 3 slices of avocado, 3 slices of jalapeno. 1 poached quail egg, 2 slices of pickled diakon, a few sprigs of cilantro, and a sprinkle of scallion. Make sure you add 2 ounces of Fully cooked Sliced Bison tenderloin to finish your Asian Hot Pot.