Rhubarb and Spruce Tip Galette
Rhubarb and Spruce Tip Galette
Rhubarb and Spruce Tip Gazette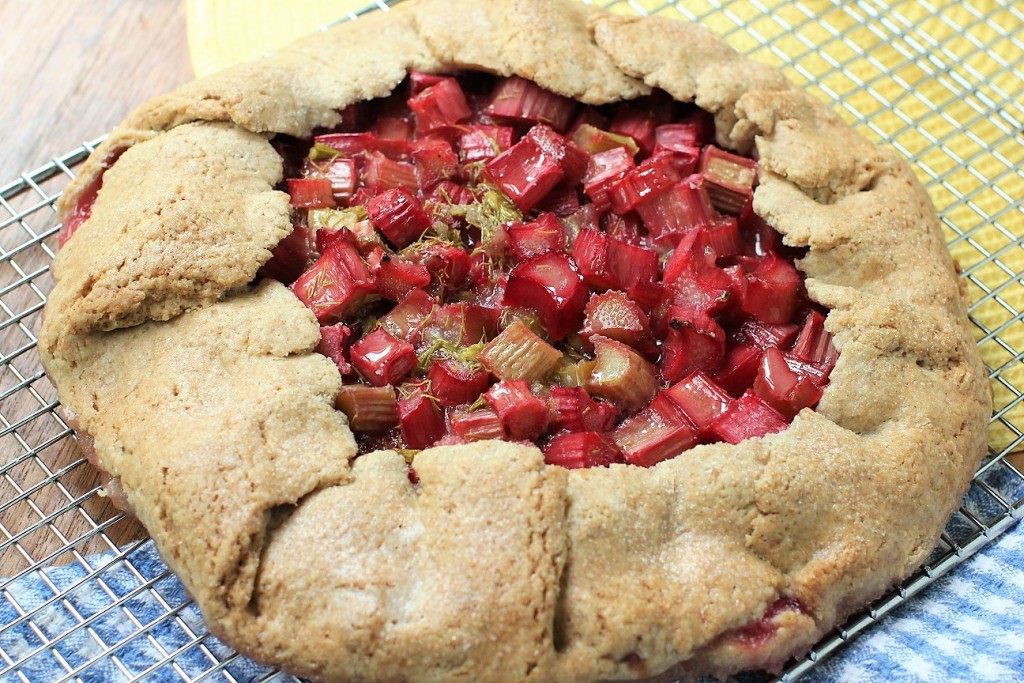 pastry for a single crust pie
4 C. (550gms) rhubarb, cut in ½ inch (1cm) pieces
2/3 cup (140gms) + 1 tsp. sugar, divided
1/8 tsp. salt
¼ cup (4 T.) chopped spruce tips (*or see variations below)
3 T. cornstarch
1 T. butter
2-3 tsp. almond milk, dairy milk, or water
Preheat the oven to 375°F (190°C). Roll out the pastry dough between two sheets of parchment paper, into a 12″ (30cm) circle. (See the bottom of this post for a good tip on how to roll between paper.) Peel off the top layer of paper and discard it. Transfer the bottom layer of parchment, with the pastry circle still attached, to a baking sheet – a pizza pan works really well for this. Set the pan with the pastry crust into the fridge to chill while you make the filling. Cut the rhubarb into ½ inch (1cm) slices. Clean the brown papery husk off the spruce tips and chop the spruce tips coarsely. Place the rhubarb and spruce tips into a bowl. Add the salt, cornstarch, and sugar. Toss to combine everything well. Scrape the mixture into a pile on top of the pastry circle in the pan. The sugar and cornstarch will settle between the rhubarb chunks. Level the rhubarb chunks into a neat circle, leaving a 2 inch (5cm) border of pastry uncovered. Very carefully fold up the pastry border, pulling up on the parchment paper to help lift the pastry. Pleat the pastry and press the folds gently down onto the rhubarb filling as you go around the circle. Dot the filling with little bits of the butter. Brush the pastry border with the milk and sprinkle with the remaining 1 tsp. of sugar. Bake for 40 to 45 minutes, until the pastry is golden. Remove the galette from the oven and leave it to cool in the pan for 5 minutes. Leaking bits of filling are normal with galettes, and add to their rustic charm. If there's a big puddle of liquid that has leaked out, try to scrape some of it up with a tsp. and drizzle it back onto the center of the galette. Gently slide the galette with the paper onto a cooling rack. Serve warm or let cool completely.  If letting the galette cool, remove it from the paper to the cooling rack. To do this, slide a thin metal spatula between the galette and the paper and run it all the way around the galette to make sure it isn't sticking to the paper anywhere. Then slightly lift one side of the galette with the spatula and pull the parchment paper out from underneath, leaving the galette resting on the cooling rack. Leave it there until it is completely cool. This helps the bottom crust to stay crisp. Serve with a dollop of whipped cream or a scoop of ice cream, if desired.
*Rhubarb Basil Galette: replace the spruce tips with 2 T. chopped fresh basil. Another winning combination.
*Plain Rhubarb Galette: replace the spruce tips with 1 tsp. pure vanilla extract. Simple and delicious.