Prickly Pear Pavlova
Prickly Pear Pavlova
Prickly Pear Pavlova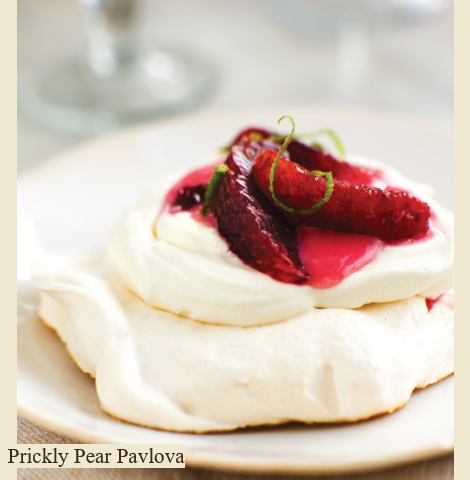 Prickly Pear Curd
1 1/2 pounds prickly pear fruit (approximately 6)
1 cup granulated sugar
4 large egg yolks (reserve egg whites for meringues)
2 large eggs
1/8 tsp. kosher salt
1 tsp. finely grated lime zest
2 T. fresh lime juice
1 T. unsalted butter, cut into 2 pieces
Cut the prickly pears in half. Using a spoon, scoop out the flesh and seeds into a medium nonreactive saucepan. Stir in 1/2 cup of the granulated sugar. Place over low heat. As the sugar starts to dissolve, press the fruit with a potato masher to release its juices. Cook until the mixture begins to simmer and the sugar is completely dissolved, about 5 minutes. Strain through a fine-mesh strainer, pressing gently on the solids to extract all the juices. Discard the solids. You should have 3/4 to 1 cup juice. Fill a medium saucepan with 2 inches of water and place over low heat. Bring to a simmer. Whisk together the egg yolks, whole eggs, remaining 1/2 cup granulated sugar, and salt in a bowl large enough to rest inside the saucepan without touching the water. Whisk in the prickly pear liquid, lime zest, and lime juice. Stir in the butter with a wooden spoon. Place the bowl over the simmering water. Cook, stirring frequently, until the mixture is thickened and smooth, about 10 minutes. Strain the prickly pear curd through a fine-mesh strainer into a medium bowl. Press plastic wrap directly onto the surface of the curd and refrigerate until completely chilled, 4 hours or overnight.  Note:  Use a wooden spoon rather than a whisk to stir the curd. A whisk will prevent it from thickening properly
for the meringues
2 tsp. cornstarch
3/4 cup superfine sugar
Reserved 4 large egg whites, at room temperature
1 tsp. white vinegar
1 tsp. pure vanilla extract
Position a rack in the center of the oven. Preheat the oven to 200°F. Line a large baking sheet with parchment paper or a silicone mat and spray with nonstick vegetable cooking spray. Combine the cornstarch with 2 tsp. of the superfine sugar in a small bowl. Set aside.  Place the egg whites in the bowl of a standing mixer fitted with the whip attachment. Beat the egg whites on high until they become frothy. Begin adding the remaining superfine sugar, 2 T. at a time, beating for 45 seconds between additions. The last addition will be the cornstarch-sugar mixture. Turn the mixer to low and beat in the vinegar and vanilla. Raise the mixer speed to high and beat for 1 more minute. The mixture should hold a very stiff peak. Divide the meringue mixture into 8 mounds, spaced evenly apart, on the prepared baking sheet. Spread each mound into a 4-inch circle with a slight indentation in the center. The back of a soup spoon works well for this. Bake for 1 1/2 to 2 hours, or until the meringues are dry to the touch. Place on a wire rack to cool. They will crisp up further as they cool. Use immediately or store in an airtight container at room temperature for up to 4 days.
for the pavlova
1 cup heavy cream
1 T. granulated sugar
1/8 tsp. kosher salt
4 blood oranges, peeled and segments separated Zest from 2 limes
Combine the cream, sugar, and salt in the bowl of a standing mixer fitted with the whisk attachment. Whip the mixture just until it forms soft peaks. Divide the whipped cream among the meringues, spreading just to the edges. Divide the prickly pear curd among the meringues. Arrange the blood orange segments over the curd and sprinkle with the lime zest. Serve immediately.