Mushroom Bacon, Garlic Croutons and Poached Egg Salad
Mushroom Bacon, Garlic Croutons and Poached Egg Salad
Mushroom Bacon, Garlic Croutons and Poached Egg Salad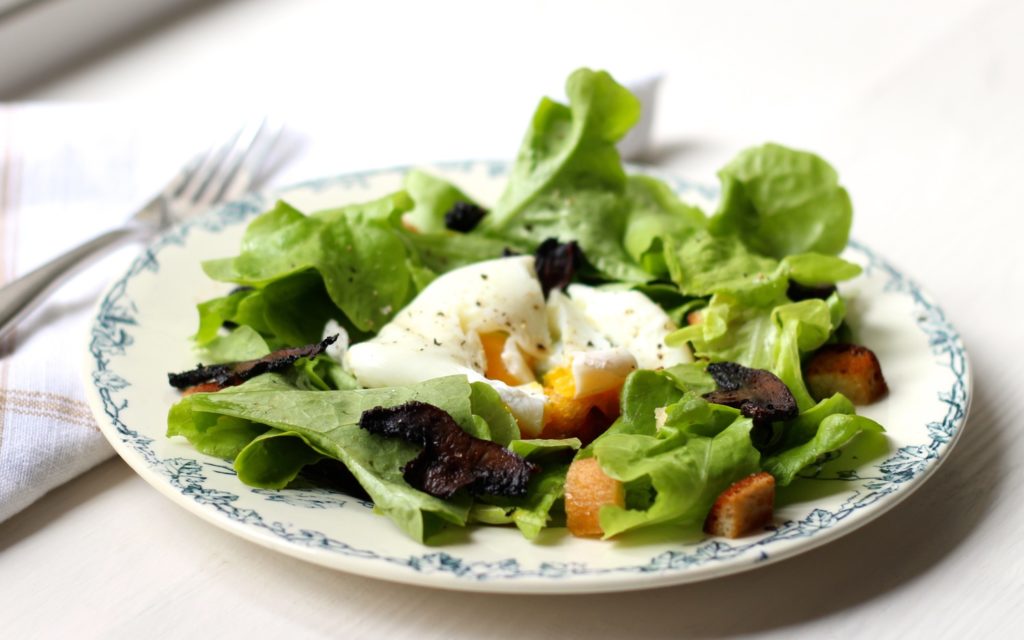 1 lb / 450g mushrooms, sliced about 1/4″ thick.  Large brown ones are great.
salt and freshly ground pepper
1/2 tsp. paprika
1/2 tsp. sugar or a drizzle of honey or agave
1/2 tsp. garlic powder
olive oil
2 cloves garlic, sliced thin
2-3 pieces of stale bread (about 1 cup, once sliced)
4 very fresh eggs
water
white vinegar
1 head of butter or romaine lettuce, torn into bite sized pieces
Dressing
1 garlic clove or 1 tsp. shallot, minced
1.5 T. olive oil
1 T. white wine vinegar or lemon juice
1/2 tsp. mustard
salt and pepper
Preheat oven to 350F / 175C.  Toss mushrooms with a drizzle of olive oil, about 1 tsp. salt, some freshly ground pepper, paprika, sugar and garlic powder.  Line baking pan with parchment paper.  Scatter mushrooms in a single layer across pan.  Use two pans (if you have them) so the mushrooms will bake in a single layer.  Roast for 15-20 minutes, til edges are just beginning to get browned.  Flip mushrooms and bake for another 15-20 minutes, til all the water has evaporated out and mushrooms look chewy, almost like bacon. Meanwhile, cut bread into cubes, or tear by hand if using good crusty bread.  Heat about 2 Tbs olive oil over medium-high heat in skillet.  Add sliced garlic and fry 30 seconds, then add bread and quickly toss to coat lightly with oil.  Add a bit more if some pieces look dry.  Add a pinch of salt.  Fry til golden brown, stirring occasionally.  It should take 5-10 minutes.
Make dressing – combine garlic, olive oil, vinegar or lemon juice, and mustard.  Give a good whisk.  Season with salt and pepper to taste.  Bring a medium saucepan of water to a low boil.  Add about a Tbs white vinegar and a good pinch of salt.  If eggs are very fresh, omit the vinegar.  Adjust heat so water is just simmering.  Crack an egg into a small bowl.  Using a long handle, give the water a good swirl, then gently drop egg into vortex.  Cook for about 2 – 2.5 minutes, until white is just set and yolk is still runny.  Remove and drain on a paper towel, then poach remaining 3 eggs.   You can poach eggs in advance – just undercook them slightly and reheat in simmering water for about 10 seconds before serving. Toss lettuce with dressing and croutons.  Plate up with some mushrooms, a poached egg and a pinch of salt and freshly cracked pepper.