Morels And Brick Cheese on Rye, With Ramp Leaf Aioli
Morels And Brick Cheese on Rye, With Ramp Leaf Aioli
Morels And Brick Cheese on Rye, With Ramp Leaf Aioli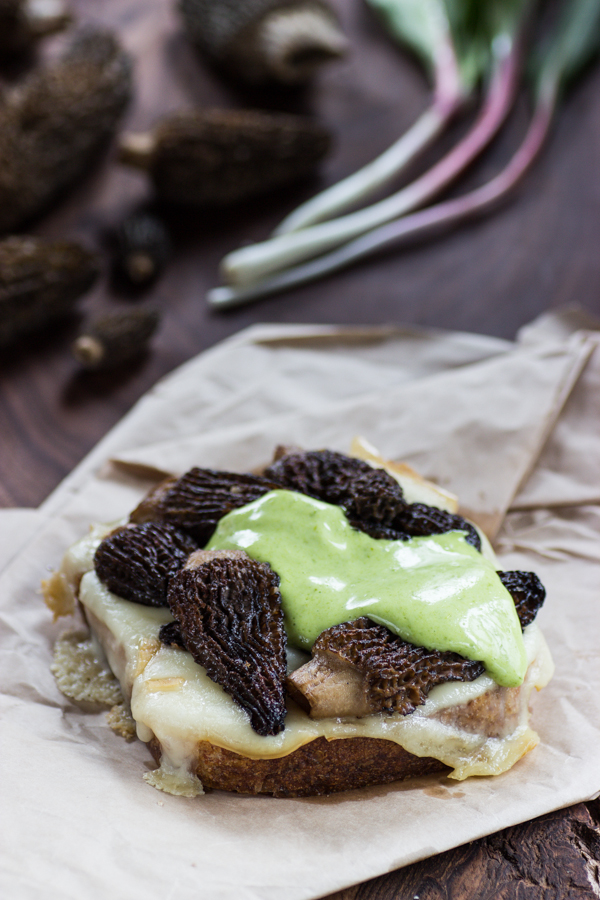 2 slices caraway rye bread sliced 1/2 inch
Room temperature unsalted butter as needed
1.5 ounces fresh whole morel mushrooms rinsed, cleaned, and inspected for debris on the inside.
Kosher salt and pepper
1 T. Lard other animal fat, or high heat cooking oil such as grapeseed
1.5 ounces brick cheese sliced
1 tsp. chopped fresh ramp bulbs
1 recipe ramp leaf aioli follows
Spread each side of bread with butter. Place the bread buttered side down in the cast iron pan. Arrange the cheese slices on the bread and cook on low-medium heat, until the bread is nicely toasted and the cheese is melting. In a separate pan, heat the lard or grapeseed oil until lightly smoking, add the morels and cook over medium high heat until brown and caramelized, about 4-5 minutes. Add a tsp. of butter to the pan, then add the ramps. When the morels are totally cooked, season with salt and pepper. Allow the morels to drain on a paper towel briefly to shed excess oil if needed. Place the morels on top of the cheese on one slice of bread, top each with some of the ramps from the pan, then add a T. of the ramp leaf aioli. Place the other slice of bread on top of the slice with the morels and sauce. Press the sandwich lightly to make it stick together.
Ramp Leaf Aioli
1 ounce fresh wild garlic leaves about 10 large leaves
Kosher salt and pepper to taste
1 cup mayonnaise preferably homemade
1 tsp. champagne vinegar
Bring a pot of lightly salted water to a boil. Add the wild garlic leaves and cook for 5 seconds, until just wilted. Immediately refresh the ramp leaves in an ice bath to preserve their color. Squeeze the leaves dry in a towel, then mince finely. Puree the leaves in a highspeed blender or a food processor with the mayonnaise.  Afterwards, pass the sauce through the chinois or mesh strainer to remove any stringy leaf particles and give it a velvety texture (optional). Stir in the champagne vinegar, season to taste with salt and pepper and reserve until needed.