Salad of Herbs and Flowers
Salad of Herbs and Flowers
Salad of Herbs and Flowers
Northwest chefs are guilty of excess in many areas. The sheer abundance of good things we have to work with drives us to experiment with combinations that would be merely ridiculous in regions with a smaller variety' of fresh local produce. Raspberries garnish grilled salmon, and in the summer when basil becomes almost ubiquitous, it is slipped into everything from salads to desserts. Somehow, in this Oz-like setting where rainbows are as regular as rain, and hundreds of acres of brilliant red and purple, tulips grow against a backdrop of majestic mountain ranges, we feel comfortable serving and eating outrageously colorful things.  So, salads are regularly filled with tiny violas, yellow and orange nasturtiums, and the occasional petals of a day lily. In spring, don't put it past a Northwest chef to serve the petals of unsprayed tulips in a salad. They' taste like snow peas and have the texture of the best butter lettuce. Experiment with other edible flowers in season but be sure to use only unsprayed garden flowers and avoid experimenting with blossoms that are of dubious edibility'.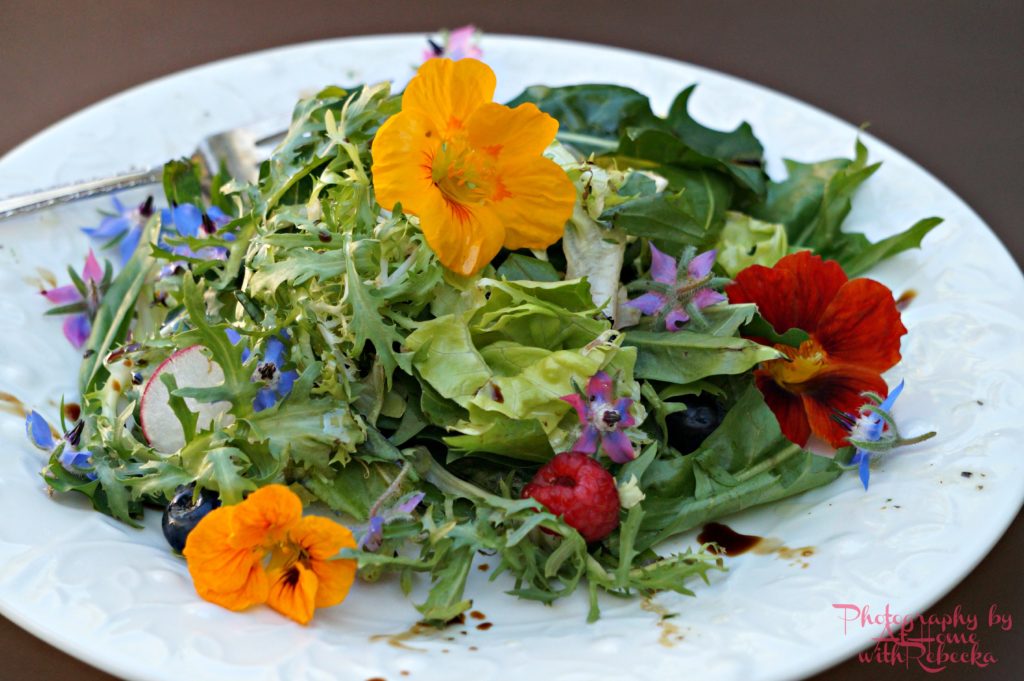 6 to 8 cups mixed baby salad greens, washed and dried
2 to 3 tablespoons Fresh Raspberry and Basil Vinaigrette (recipe follows)
24 to 36 basil leaves
6 tulips (in spring) or day lilies (in summer)
18 nasturtium blossoms
18 violas. Johnny-jump-ups, or pansies
3 chive blossoms
1 cup fresh raspberries
Pick through the salad greens, removing any undesirable leaves. Pile in a large salad bowl and toss with the vinaigrette. Add the basil leaves and toss lightly to avoid bruising the basil. Arrange the petals of the tulips or day lilies on each of 6 chilled salad plates, then divide the dressed greens evenly among them. Tuck 3 whole nasturtium blossoms into each salad, scatter the petals of the violas over the greens, then pluck the petals from the chive blossoms and scatter those over as well. Finally, sprinkle each salad with a few raspberries and serve at once.
Fresh Raspberry and Basil Vinaigrette
Ordinarily a raspberry vinaigrette is made with raspberry-flavored vinegar. This dressing incorporates whole raspberries, and the pulp of the berries allows the oil and vinegar to emulsify to a creamy consistency.
1/2 cup raspberries
3 tablespoons rice vinegar
1 tablespoon sugar
2/3 cup light olive oil or vegetable oil
1 teaspoon kosher salt
1/2 teaspoon freshly ground black pepper
12 fresh basil leaves
In a blender, combine the raspberries, vinegar, sugar, oil, salt, and pepper; puree the mixture at high speed. Force the puree through a fine strainer to remove seeds. Cut the basil into fine ribbons and stir in. Use 2 to 3 tablespoons for each salad. Dressing keeps, refrigerated, for at least 1 week.