Crockpot Chicken & Stuffing
Crockpot Chicken & Stuffing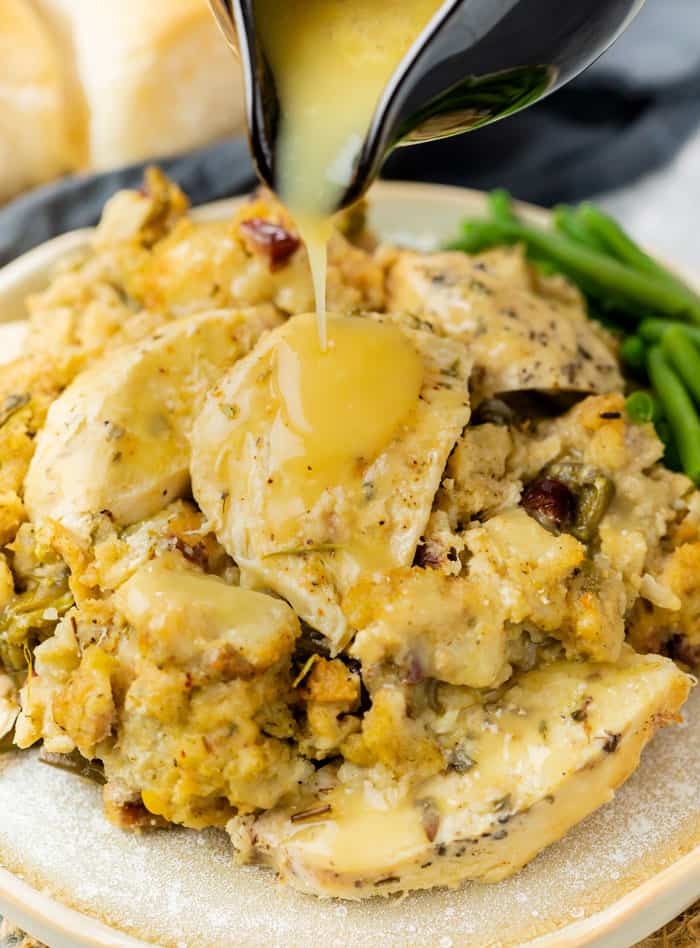 Crockpot Chicken & Stuffing
Chicken Breasts
Italian Seasoning
Salt/Pepper
Stuffing Ingredients
Cream of Chicken Soup (or healthier homemade version)
Sour Cream
Stuffing Mix- Such as Stove Top
Low Sodium Chicken Broth
Green Beans- Fresh or Frozen
Optional Stuffing Additions:
Onions
Celery
Dried Cranberries
Rosemary
Season the chicken. Place on the bottom of a lightly greased Crock Pot.  Combine the stuffing ingredients and place over or next to the chicken Add the vegetables.  Heat on high for 4 hours or on low for 6-7. See below for tips on regulating the consistency of the stuffing according to your preference. Uncooked stuffing, green beans, and chicken breasts in a crock pot.
For Firmer Stuffing:  If you like your breadcrumbs still very much intact and firm, use more stuffing, up to 12 ounces. If your stuffing is too moist:  Leave the lid off for the last 30-40 minutes of cooking to let some of that moisture escape. You can also pop the stuffing in a 400º oven for 10-15 minutes to brown up the top.