Instant Pot Low Carb Cabbage Rolls
Instant Pot Low Carb Cabbage Rolls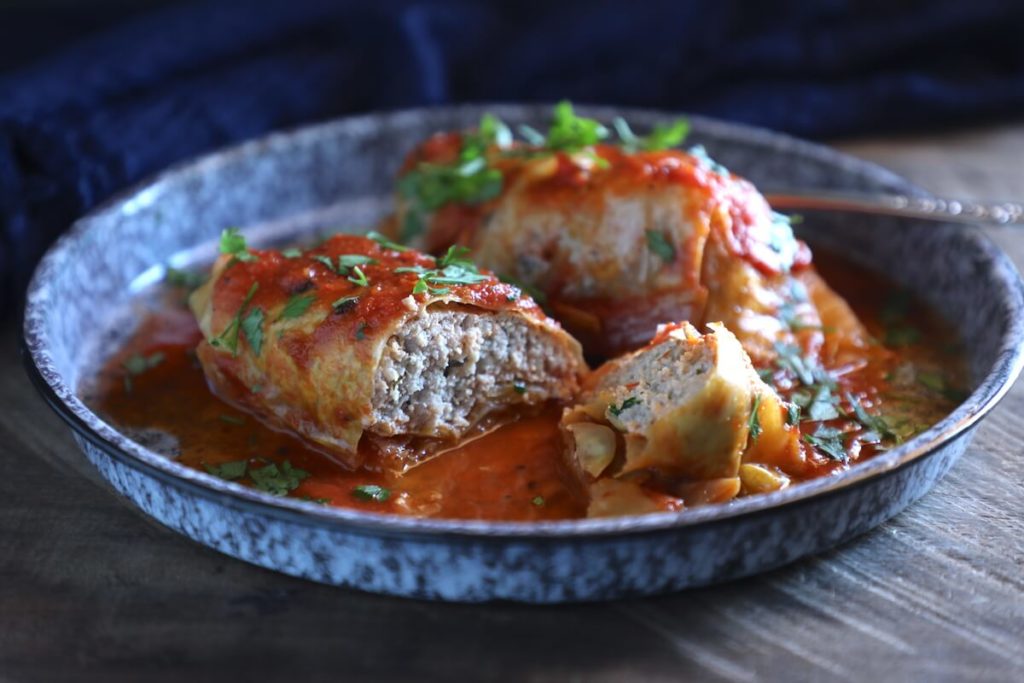 Instant Pot Low Carb Cabbage Rolls
9 large white cabbage leaves, softened
2 lb. ground pork (or beef)
1 1/2 C. riced cauliflower
1/4 C. chopped fresh parsley
1 T. dried onion flakes
1/2 tsp. garlic powder
1 tsp. kosher salt
1/4 tsp. ground black pepper
1 (28 ounce) can crushed all purpose tomatoes
3/4 C. water
2 T. olive oil
1 T. white vinegar
1 tsp. kosher salt
1/4 tsp. ground black pepper
1 tsp. dried oregano
1/2 tsp. garlic powder
To Soften the Cabbage Leaves: Cut the core out of a large head of cabbage. Remove any discolored or damaged leaves from the outside. Place in a large bowl, stem side down with 1 C. of water in the bottom. Microwave, covered, on high for 8 minutes, or until the outer leaves are softened and turning translucent. Remove and cool before carefully separating leaves for use. (You could also do the standard treatment of simmering water in a pot.
Place all of the filling ingredients in a large bowl, and mix well with your hands until fully combined.
Combine all of the sauce ingredients in a large bowl and stir well. Set aside until ready to use.
Store extra sauce in the fridge or freezer.
Place 1/2 C. of sauce on bottom of Instant Pot insert. Place a cabbage leaf on a clean flat surface and add 1/2 C. meat filling to the center. Fold the two sides over the meat mixture, then roll from the edge closest to you over the meat mixture until a small rolled bundle is formed. Place the roll in the Instant Pot, (make sure you've added some sauce per above first so they don't stick) Repeat with three more rolls. Top the rolls with 1 C. of sauce. Place a cabbage leaf on top of the rolls to keep them separated from the next layer. Make the remaining 4 rolls and place on top of the cabbage leaf. Do not press down. Cover the top of the cabbage rolls with another 1 1/2 C. of sauce. Place the cover onto the Instant Pot and lock in place. Make sure the vent is closed. Choose Manual / Low Pressure and set it for 20 minutes. When the timer goes off, allow the pressure to release naturally – about 10 minutes. Remove the lid and serve hot with extra parsley for garnish if desired. Store leftovers in an airtight container in the refrigerator for up to 5 days, or the freezer for up to 3 months.