Stovetop Applesauce
Stovetop Applesauce
Stovetop Applesauce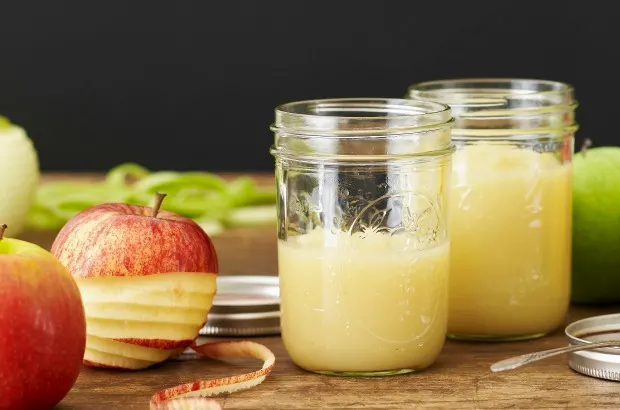 3 pounds apples
2 tablespoons sugar or 1½ tablespoons honey (optional)
½ cup water or apple juice
2 tablespoons lemon juice
Wash the apples. If you have a food mill or a food processor, you'll use it later to deal with the peels. Otherwise, peel the apples. Remove the cores (save them to make Apple Scrap Vinegar). Chop the apples into chunks about an inch thick. Put the apples into a large pot. If you are using the sugar, add it to the apples; if you are using the honey, dissolve it in the water. Add the lemon juice and the water to the pot. Cook the apples over medium heat, stirring frequently, for 20 to 25 minutes until they are mushy. If you left the peels on, run the applesauce through a food mill to remove them, or puree in a food processor (Since a food processor can't separate the skins from the pulp in the same manner as a food mill, it's preferable to peel and seed apples before cooking. After the apples are cooked, use a slotted spoon to transfer apples to the bowl of the food processor. Pulse to create a smooth puree, adding a tablespoon or two of the cooking liquid, as needed. Flavor with cinnamon or sugar, if desired.). If you peeled the apples, you can either mash them with a potato masher or puree them in a blender or food processor. Homemade applesauce will keep, refrigerated, for 1 week, or in the freezer for 6 months. For longer storage at room temperature, fill clean, hot pint or half-pint jars with the applesauce, leaving ½ inch of head space. The applesauce should still be hot when you fill the jars. If you want to can applesauce that has already cooled or been in the refrigerator for a couple of days, first bring it to a boil over medium heat before filling the jars. Go around the insides of the filled jars with a table knife to remove any air bubbles. Wipe the rims of the jars clean. Screw on canning lids and process in a boiling water bath for 20 minutes.
Cranberry Applesauce
Cook 4 pounds apples with 1 ½ cups of frozen cranberries, ½ cup sugar, and ¼ cup brown sugar, and 1 tablespoon freshly squeezed lemon juice.
Chunky Apricot Applesauce
Soak 1 cup dried apricots in hot water for about 10 minutes, or until softened. Remove from water and dice. Add diced apricots and about ¼ cup
sugar to 4 pounds apples in the last few minutes of the cooking time, stirring until sugar dissolves.
Pear Applesauce
Cook 2 pounds apples and 2 pounds pears, both quartered. Since pears have more natural juice than apples, this sauce will be a little thinner than classic applesauce. To compensate, add just a tablespoon or two of liquid to the fruit before cooking instead of the ¼ cup listed in the recipe
Plum Applesauce
Cook 2 pounds apples with 2 pounds halved and pitted plums, and ¼ cup sugar.