CrockPot Layered Dinner–Steak, Potatoes, Corn on the Cob
CrockPot Layered Dinner–Steak, Potatoes, Corn on the Cob
CrockPot Layered Dinner–Steak, Potatoes, Corn on the Cob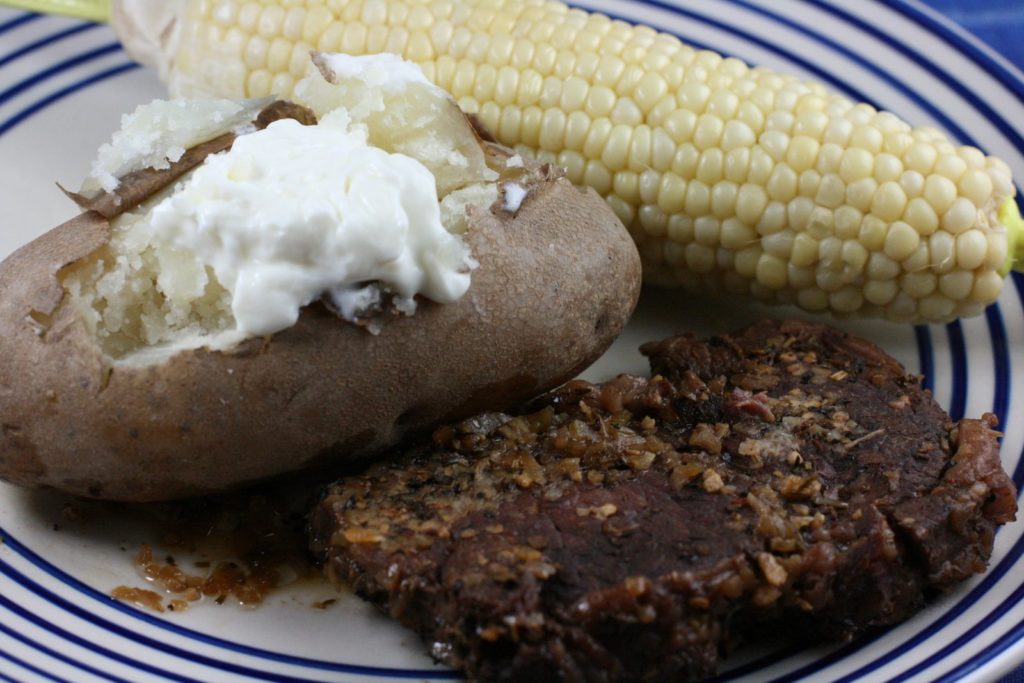 This is what I used. You can use whatever meat or vegetables you have in the house. The trick is to not use too much liquid when cooking the meat, so the potatoes and the corn (or whatever you're using) isn't floating in juice.
1 1/1 lb. rib eye steak
1 T. of your favorite seasoning rub
1 T. dried onion flakes (a tiny fresh onion, diced, would be fine)
2 T. Worcestershire sauce
1/4 C. tequila (or broth, apple juice, etc.)
2-4 potatoes
2-4 ears of fresh corn
aluminum foil
In my 6 quart Smart Pot, I used 2 whole brown potatoes, and 4 ears of corn. I could have fit another potato in, probably.  Put meat in the bottom of the crockpot. Rub with seasoning and onion, and flip over to get the other side. Add tequila and Worcestershire sauce.  Wash potatoes and cover with foil. Add to the pot. Shuck the corn, and wrap each ear in foil. Add to the crockpot. It doesn't seem to matter if the potatoes are closer to the meat, or the corn. The new crockpots heat from the sides as well as from the bottom, so everything will cook through regardless of location. Cover and cook on high for 5-7 hours, or on low for about 8. I cooked our dinner for 6 hours on high. My crockpot was quite full.