Instant Pot Pork Chops with Mushroom Gravy
Instant Pot Pork Chops with Mushroom Gravy
Instant Pot Pork Chops with Mushroom Gravy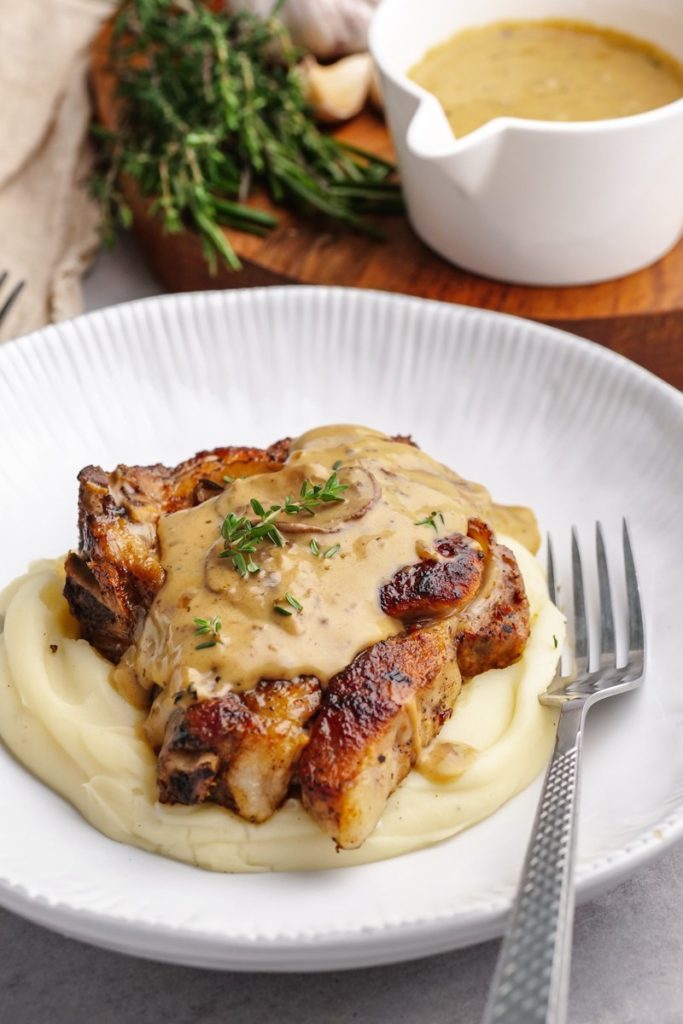 4 Pork loin center chops 2lbs total. Look for bone-in well-marbled about 1.25 inches thick
2 T. butter
Spice Rub
1/2 tsp. smoked paprika
1/2 tsp. onion powder
1/2 tsp. garlic powder
3/4 tsp. black pepper
½ tsp. oregano
3/4 tsp. salt
Gravy
4 ounces baby bella mushrooms sliced
1 T. butter
1 yellow onion medium sized, sliced
1 T. garlic minced
½ tsp. dried thyme
½ tsp. dried rosemary
1 C. chicken stock
1 T. soy sauce
1 T. Worcestershire sauce
2 T. all-purpose flour
½ C. heavy cream
Mix Spice Rub: Combine all the spice rub ingredients in a small bowl, and mix together, then set aside.
Prep Pork Chops: Take your 1.25 inch thick pork chops and use a meat tenderizer and pound them a little to tenderize. Take a paper towel, and pat the pork chops dry. Season both sides of the pork chop with the spice rub.
Brown Pork Chops in Instant Pot: Using a 6 qt or 8 qt Instant Pot, press "Saute" and let the Instant Pot heat up. It will take 5-8 minutes, and will read "Hot" Add the 2 T. butter to the Instant Pot. And use a wooden spoon to spread it around. Make sure to coat the whole bottom of the pot with butter. Place 2 of the seasoned pork chops into the hot pot, and let them cook for 2-3 minutes, to brown. Do not move them, let that nice brown crust form. Then flip and repeat with the other side. Remove from the pot, and repeat the steps to brown the other 2 chops.
Start Gravy: Once chops are removed from the pot, add the mushrooms in. Sauté mushrooms for 6-8 minutes, until the moisture is gone, and the edges are crispy and slightly browned. Add in one T. of butter, then add in sliced yellow onions, minced garlic, thyme, and rosemary. And then sauté everything for 2-3 minutes until onions are fragrant and tender. Deglaze the pan by pouring chicken stock into the pan, and using your wooden spoon to scrape any browned bits off the bottom of the pot and mix it all together. This is very important so you do not receive a "Burn" notice from your pot. But also the brown bits add so much flavor to your sauce. Add Soy Sauce and Worcestershire Sauce, and stir.
Pressure Cook: Add your browned pork chops back into the Instant Pot, pressing them down into the cooking liquid. Place the lid onto the Instant Pot, and lock the lid into place. Turn the valve to the "sealing" position. Pressure Cook for 1 minute on high. (yep you read that right) After 1 minute cook time is up, let the pressure naturally release for 10-15 minutes. After the 10-15 minutes, turn the valve to release pressure, and carefully open the lid (away from you). Remove pork chops from the pot, and set aside.
Turn pot back on to "Saute" and bring the mushroom gravy in the pot to a simmer. While the Instant Pot is naturally releasing pressure, whisk flour and cold heavy cream together. Remove chops from the pot. Then stir the heavy cream mixture into the mushroom sauce in the Instant Pot Taste the gravy, and season with salt and pepper to your preferred taste. Cook down if needed to achieve desired thickness.
Serve pork chops with the mushroom gravy spooned over top.