Sweet and Spicy Canned Onion Marmalade
Sweet and Spicy Canned Onion Marmalade
Sweet and Spicy Canned Onion Marmalade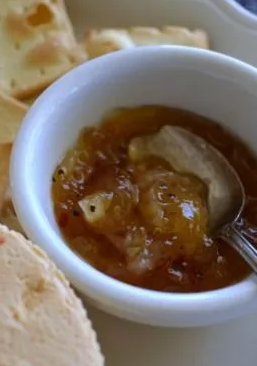 2 pounds onions preferably sweet or a mix of sweet and regular
1 C. apple juice
1/2 C. cider vinegar
2 teaspoons fresh minced garlic
1 teaspoon salt
1/2 teaspoon black pepper
1/4 teaspoon ground mustard
1 teaspoon crushed red pepper flakes
3 T. Low or No Sugar Needed pectin – flex batch equals 1 box
1/2 teaspoon butter or oil optional to reduce foaming, but I always use it
1 C. honey
1/2 C. brown sugar
Prepare water bath canner, 6 half pint jars & lids, keeping warm until needed. Cut ends off onions and peel; slice in half and cut each in half again, lengthwise (or in thirds if onions are big). Turn halves and cut into 1/4 inch slices widthwise. Place slices in an 8-quart measuring C. – you should have 6 C. of onion slices. Add prepared onions, apple juice, vinegar, garlic, salt, pepper, mustard and red pepper flakes to an 8-quart stockpot. Gradually stir in pectin and then add butter if using. Bring to a boil that can't be stirred down over high heat, stirring constantly. Add honey and sugar; return to a full boil and let boil for 1 minute, stirring constantly. Remove from heat (skim foam if needed). Ladle hot marmalade into prepared half pint jars one at a time, leaving 1/4-inch headspace. Wipe rims, attach lids, and place in canner. Place lid on canner and bring to a gentle, steady boil – process for 10 minutes, maintaining steady boil the entire time. Turn off heat and let jars cool in canner 5 minutes before removing jars to a towel lined surface to cool for 24 hours. Check lids for seal before labeling and storing in a cool, dark place (with rings removed). Notes: *You don't have to can this – it will keep for 2-3 months in the refrigerator.
Use as a glaze for meats like chicken, ham and pork, as well as seafood (my favorite is shrimp).
Top grilled steak, pork, chicken and seafood.
Add on top of Boursin cheese or cream cheese as an appetizer.
Mix into sour cream as a dip for crackers, pretzels, or chips.