Canning Stewed Rhubarb
Canning Stewed Rhubarb
Canning Stewed Rhubarb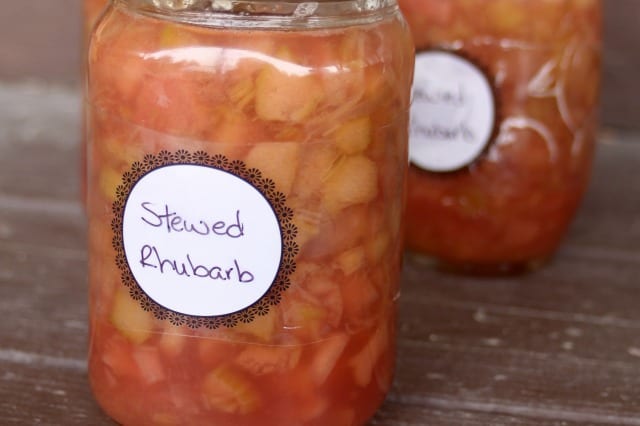 12 C. Sliced Rhubarb
1 ½ C. Sugar
In a large pot combine the rhubarb and sugar, mixing well. Cover and let stand until juice begins to release from the fruit. While the fruit stands, get the boiling water canner going and get jars, lids, and rings ready. Once some water has started to release from the rhubarb, bring it to a gentle boil, stirring to prevent scorching. Ladle the stewed rhubarb into hot jars leaving 1/2″ headspace. Clean rims; put on lids and rings. Process in a boiling water bath canner for 15 minutes, adjusting for elevation.
Notes: Scale the recipe up or down by figuring 1/2 C. sugar for every 4 C. of chopped rhubarb
These beautiful jars are a simple addition to many meals in winter:
Use as a pancake / waffle topping instead of syrups
Mix in with oatmeal and other hot cereals for a flavorful, fruity punch
Top ice cream, poundcake, or sweet shortcake biscuits for an easy dessert
Dumplings! Put a jar or two into a pot and heat, add dumpling batter and cook until the dumplings are cooked and fluffy.
Stir into homemade yogurt
Pour a jar or two into the bottom of a pie plate and top with oats and melted butter for a crisp-style dessert.