Cacio e Pepe Mashed Potatoes
Cacio e Pepe Mashed Potatoes
Cacio e Pepe Mashed Potatoes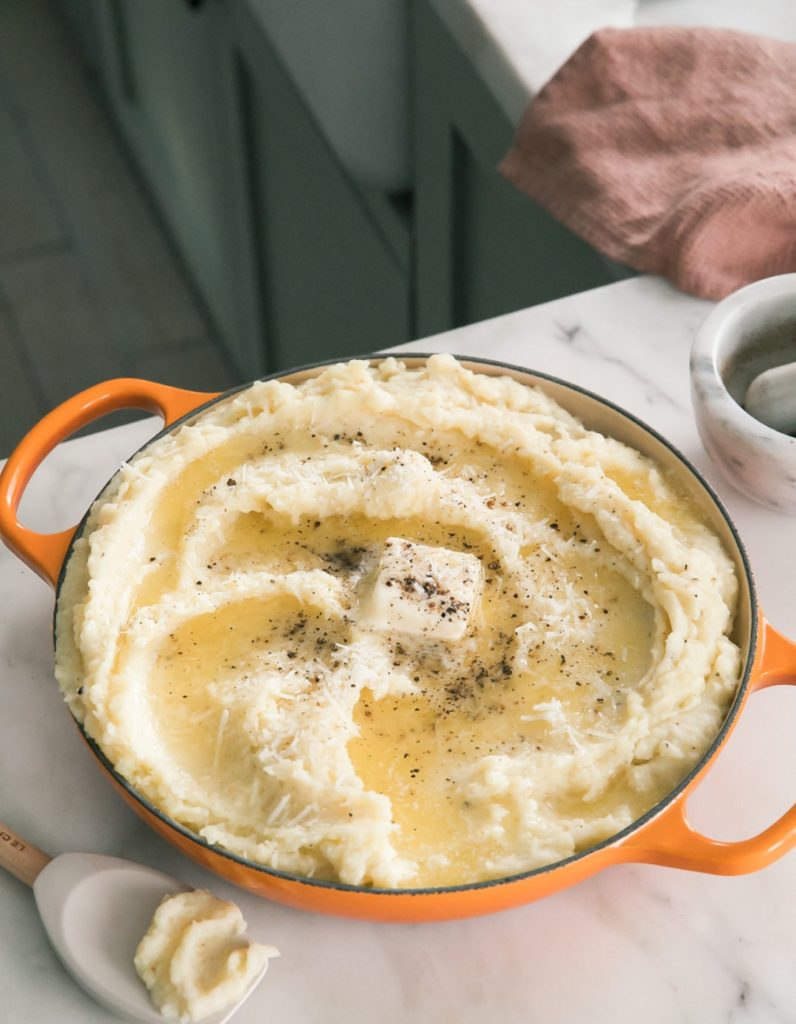 1 T. black peppercorns
5 pounds yukon gold potatoes
1/2 C. unsalted butter, cut into cubes, at room temperature
1 C. Pecorino Romano, divided
Kosher salt
1/2 C. buttermilk, shaken
1/4 C. heavy cream
In a small saucepan, set over medium heat, add the peppercorns. Toast for about 2 to 3 minutes, until fragrant. Pour the peppercorns into mortar and pestle. Alternatively, you could add it to a spice grinder or pepper grinder. Mash up the peppercorns until all crushed. Set aside. To Make the Potatoes: In a 4-quart Dutch Oven, fill it up about 3/4 of the way with cold water. Peel the potatoes and place them in the Dutch Oven and set it over medium-high heat. Bring the potatoes to a boil and then bring down the heat to medium-low. This should keep them at a nice, steady simmer. Cook until very soft, about 35 minutes. Give them a taste and make sure they're VERY soft. Pour the potatoes into a colander and immediately run them under cool water. Then immediately run the potatoes through a ricer, in batches, into the Dutch Oven. Repeat this step until you've worked your way through all of the potatoes.
In the pot with the mashed potatoes, pour in the buttermilk, softened butter, half of the ground up pepper, a few pinches of salt and heavy cream; mix it all together until smooth. Give it a taste and adjust the salt and cheese according to taste. I added about 2 tsp. of salt in total. To Serve: Melt 2 T. of butter in a small saucepan. Make some swoops in the tops of the potatoes. Pour the melted butter on top and then add a few pinches of freshly ground pepper and the remaining 1/4 C. of Pecorino Romano.
To Make Ahead & Reheat:  Make the recipe straight through and then allow to come to room temperature. Store in an air-tight container in the fridge up to 2 days ahead. When you're ready to serve: Add a few T. of heavy cream to the bottom of a medium-sized pot and place it over medium-low heat. Add the cold potatoes and cover the pot. Cook for 1 to 2 minutes and then stir them. Cover the pot again and allow to warm up for about 3 to 4 minutes. Repeat until the potatoes are warm.