Pan-Roasted Portobello Mushrooms with Mashed Parsnips
Pan-Roasted Portobello Mushrooms with Mashed Parsnips
Pan-Roasted Portobello Mushrooms with Mashed Parsnips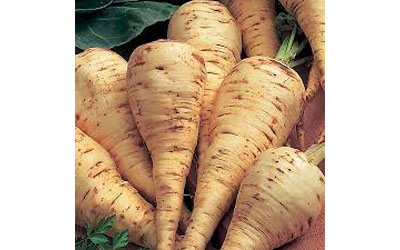 This savory mushroom dish is the vegetarian equivalent of a steak dinner. The rich taste and dense texture of the portobellos are complemented by creamy parsnips and lightly cooked greens.
1/4 C. soy sauce
2 T. balsamic vinegar
1 T. honey
4 T. Ketchup
2 cloves garlic, smashed
5 T. sherry
8 T. olive oil
4 portobello mushrooms, stems removed
2 parsnips, peeled, inner core removed, and coarsely chopped
2 Yukon Gold potatoes, peeled and coarsely chopped
Salt and freshly ground black pepper
4 T. minced fresh flat-leaf parsley leaves
1 bunch Sautéed Leafy Greens (cooked down in olive oil and garlic, finished with lemon juice)
Preheat the oven to 400°F. In a blender, combine the soy sauce, vinegar, honey, ketchup, garlic, 3 T. of the sherry, and 3 T. of the olive oil and blend until smooth. Spread the mushrooms on a rimmed baking sheet, gill sides up, and pour the marinade over them. Let marinate for 20 minutes. Combine the parsnips and potatoes in a saucepan with water to cover. Bring to boil over high heat, then lower the heat and simmer, uncovered, until the vegetables are tender, about 6 minutes. Drain and mash with 3 T. of the olive oil. Season with salt, then cover and set aside. Heat a large ovenproof pan and add the remaining 2 T. olive oil. Lift the mushrooms out of the marinade and reserve the marinade for later. Sear the mushrooms, gill side up, for 1 minute. Sear the second sides for 30 seconds.  and turn off the heat. If the pan isn't big enough, you may need to sear the mushrooms in batches, but it's okay to crowd them in a little for roasting. When you're done searing, pour 1 T. of the reserved marinade over each mushroom and season with salt.  Cover and roast in the oven for 20 minutes. Uncover and roast for 5 minutes more. Transfer the mushrooms to a plate using a slotted spoon. Put the ovenproof pan with the roasting juices back on the stove over high heat, add the reserved marinade and the remaining sherry, and bring to a boil. Reduce the sauce for 1 minute. To serve, put a scoop of mashed parsnips and potatoes on a plate. Slice the mushrooms in half and put 2 halves on top of the parsnips. Spoon the sauce over the vegetables and garnish with parsley and black pepper. Serve with the sautéed greens.