Elderflower Panna Cotta with Gooseberry Compote
Elderflower Panna Cotta with Gooseberry Compote
Elderflower Panna Cotta with Gooseberry Compote
A delicately wobbly, creamy panna cotta is such a simple but sophisticated dish. Infused with the scent of elderflowers and partnered with a sharp gooseberry compote, it makes a stunning summer dessert. You can use fresh elderflowers during their short season in May, but otherwise elderflower liqueur works fine. Leave out the elderflower altogether and this is a great recipe for a plain panna cotta, with a little tang from the yogurt.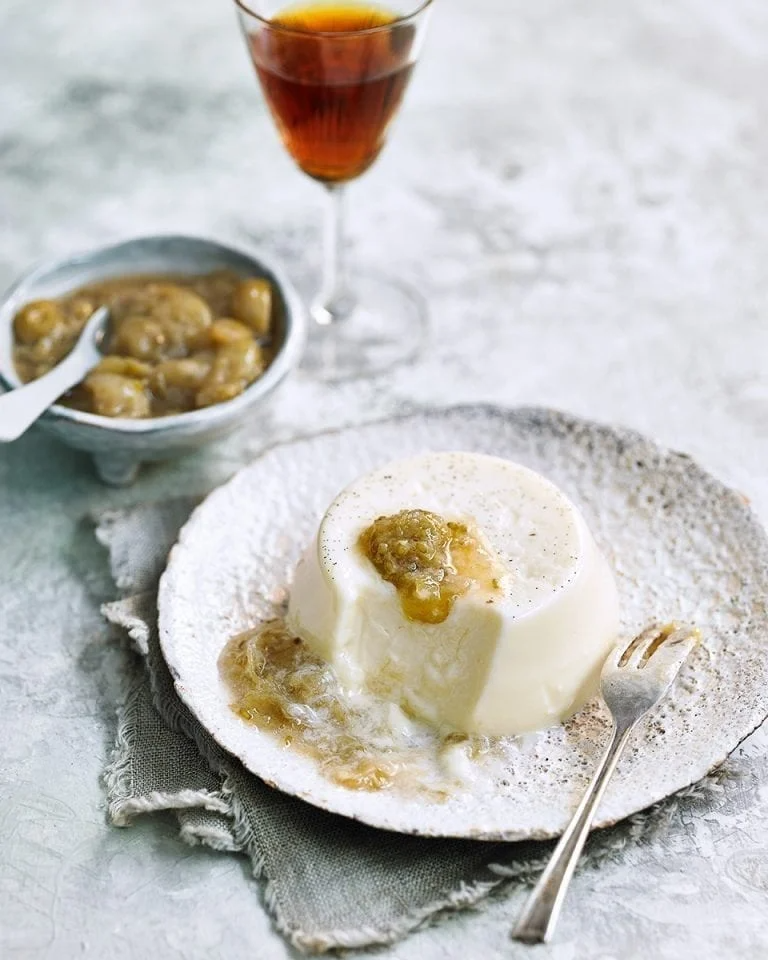 1/3 C. whole milk
1 C. heavy cream
1 T. T. superfine sugar (or 1 1/2 tsp. if you're using elderflower liqueur)
3 to 4 large heads of elderflower, or 2 T. elderflower liqueur
1 1/2 tsp. plain gelatin
2/3 C. plain yogurt
1 pound gooseberries, topped and tailed
1/4 C. superfine sugar
A few sprigs of elderflower (optional)
Combine the milk, cream, and sugar in a saucepan. Tie up the elderflower heads in a piece of cheesecloth and add to the pan, or stir in the elderflower cordial. Scald the liquid – bring just to a simmer, but don't let it bubble. If you're using elderflower heads, let stand for half an hour to infuse, then remove the elderflower. Soak the gelatin in cold water for 5 to 10 minutes, until softened. If you left the cream mixture to infuse for half an hour, reheat it almost to boiling – if you have used liqueur, the cream should still be hot enough. Add the gelatin to the hot cream mixture and stir until dissolved. Let cool to room temperature, stirring from time to time. Once cooled, stir in the yogurt until thoroughly combined. Pour the mixture into four 1/2-cup molds, such as ramekins, and chill in the fridge for at least 4 hours, until set. Meanwhile, make the compote. Put the gooseberries in a pan with the sugar and V4 C. water. Tie up the elderflower sprigs, if using, in a piece of cheesecloth and add to the pan. Bring to a simmer and cook gently for about 10 minutes, until the gooseberries are soft. Let cool completely, then remove the elderflower sprigs and chill the compote. To turn out the panna cottas, dip each mold very briefly in hot water – literally just a few seconds – then turn upside down onto a serving plate and give it a shake; if necessary, run a knife around the edge. Serve with the gooseberry compote.