Chicken Cilantro Lime Soup
Chicken Cilantro Lime Soup
Chicken Cilantro Lime Soup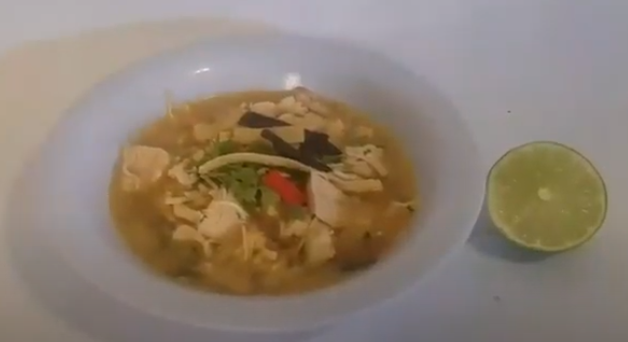 2 T. olive oil
1 onion, chopped
2 garlic cloves, minced
1 T. chili powder
2 skinless boneless chicken breast halves, cut into 3/4-inch pieces
5 C. canned low-salt chicken broth
1 C. fresh or frozen corn kernels
1 C. chopped seeded tomatoes
1/2 bunch fresh cilantro sprigs, tied together with kitchen string.
1/4 C. chopped fresh cilantro
1/4 C. fresh lime juice
Sour cream
Heat oil in heavy large saucepan over medium-high heat. Add onion and garlic; sauté until slightly softened, about 3 minutes. Add chili powder; stir 1 minute. Add chicken; stir 2 minutes. Add broth, corn, tomatoes and 1/2 bunch cilantro sprigs to saucepan; bring to boil. Reduce heat and simmer until chicken is cooked through, about 10 minutes. Discard cilantro sprigs. (Can be made 1 day ahead. Chill. Bring to simmer before continuing.) Add chopped cilantro and lime juice to soup. Season with salt and pepper. Garnish with sour cream.