Bacon-Grilled Onion Rings
Bacon-Grilled Onion Rings
Bacon-Grilled Onion Rings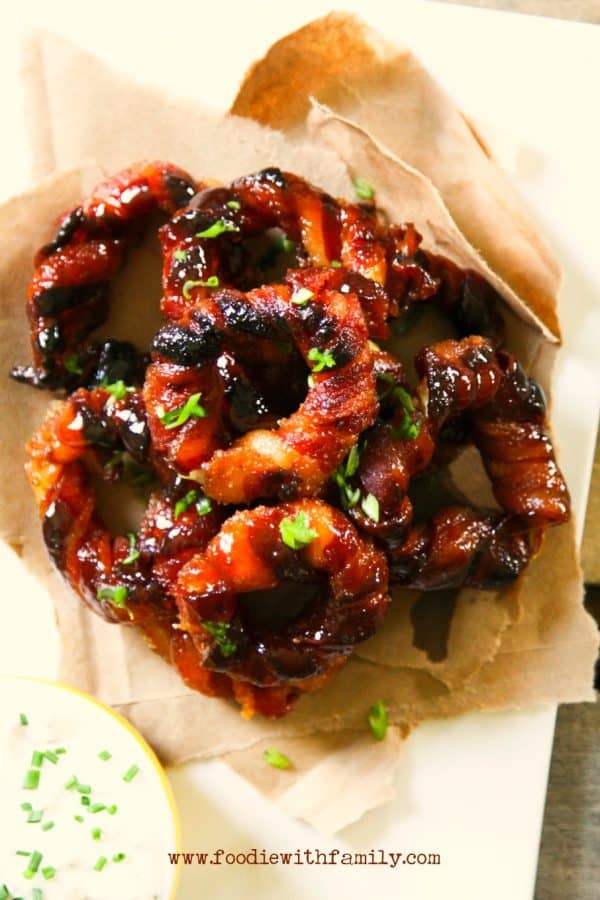 Note: You need firm outer onion rings, so choose large sweet onions, which will provide this. You will also need wooden toothpicks.
2 large sweet onions such as Vidalias, Walla Wallas, or Texas Sweets
1/2 c. of your favorite hot sauce, such as Sriracha or Frank's RedHot
1 1/2 lb. thin-sliced bacon
Vegetable oil for oiling the grill grate
Set up your grill for indirect grilling and heat to medium-high. Trim the ends off the onions and peel off the thin papery skins. Slice each onion crosswise into 1/2-inch thick slices. Carefully pop the centers out of each slice, keeping the 2 outermost layers together. (Two layers make a sturdier foundation for the bacon.) Set aside the largest onion rings. You should have 8. Save the remaining onion pieces for another use. Pour the hot sauce into a mixing bowl or shallow dish. Brush each onion ring with the sauce. mSpiral each onion ring with bacon, slightly overlapping each strip, until the ring is covered. (You'll need 2 to 3 strips of bacon for each onion ring.) Use toothpicks to secure the ends of the bacon. Brush or scrape the grill grate clean and oil it well. Arrange the onion rings on the grill grate, away from the fire (using indirect heat), and close the lid. Cook until the bacon is golden brown and sizzling, 20 to 30 minutes. Drain the onion rings on a wire rack spread with paper towels. Variation: Use barbecue sauce instead of hot sauce, if you prefer. Or brush the onion rings with melted butter and season them with your favorite barbecue rub. Or brush them with warm maple syrup and dredge the onion rings in brown sugar before wrapping them with bacon.
Yield: 4 servings
Calories: 260
Fat: 6g
Fiber: 1g