Tartiflette Toastie
Tartiflette Toastie
Tartiflette Toastie
Lunch doesn't get more comforting – or indulgent, frankly – than this sumptuous version of cheese on toast, which is also a great way to use up leftovers. It's not something you can take to the office, granted, but it is just the sort of thing I like to rustle up for lunch when I'm at home. It's inspired by the Savoyarde dish tartiflette, a rich baked combination of potatoes, cheese, and bacon. Tartiflette is usually made with Reblochon, but any semisoft washed-rind cheese, such as Brie (not too ripe), works well, or try a semihard cheese, such as Cheddar.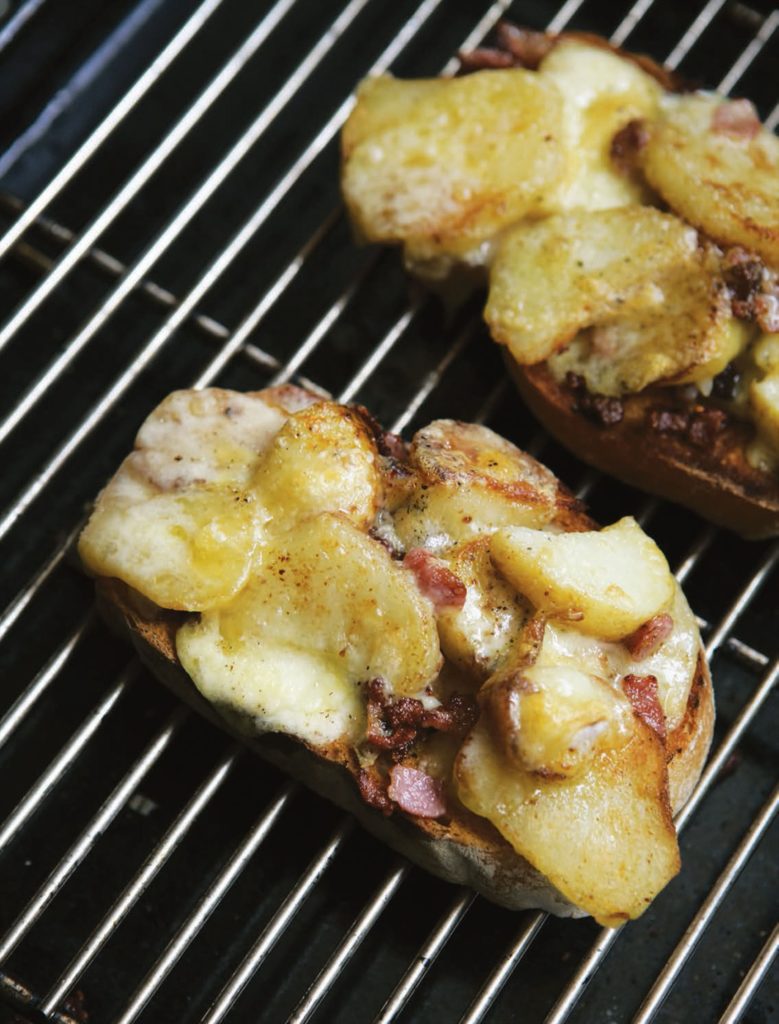 1 T. canola or olive oil
2 bacon slices, or a slice of cold ham, cut into small strips
1 cold cooked potato (baked, boiled, or even roasted), thickly sliced
1 to 2 T. heavy cream or creme fraiche
Sea salt and freshly ground black pepper
1 large, thick slice bread
3 to 4 thick slices (about 1 ounce) semisoft or semihard cheese (good melting cheese)
A few crisp, bitter salad greens, such as chicory, radicchio, or frisee, to serve
Heat the oil in a small frying pan over medium heat. If you are using bacon, add it to the pan and fry for a few minutes, until cooked. Add the potato and fry until it is heated through and starting to color a little. If you're using ham, add it now and stir until well heated through. Stir in the cream or creme fraiche and allow it to bubble and reduce for a couple of minutes. Remove from the heat and season to taste. Toast the bread, pile the mixture on top, then cover with the sliced cheese and put under a hot broiler. As soon as the cheese is melted and bubbling, whip out from under the broiler and transfer to a plate. Serve at once, with a few crisp, bitter salad greens on the side.