Pub Burgers with Bacon and Beer Cheese
Pub Burgers with Bacon and Beer Cheese
Pub Burgers with Bacon and Beer Cheese (PNW)
Of all the many brew pubs in Portland, I can't think of a single one that doesn't have a burger on the menu. Burgers and beer just go well together, so why not put a little beer right on the burger itself? A light lager or pilsner adds just the right flavor, without too much hoppy bitterness. Flavorful grass-fed beef from Oregon's local ranches make the best burgers, especially when mixed with a little bacon fat to keep them juicy.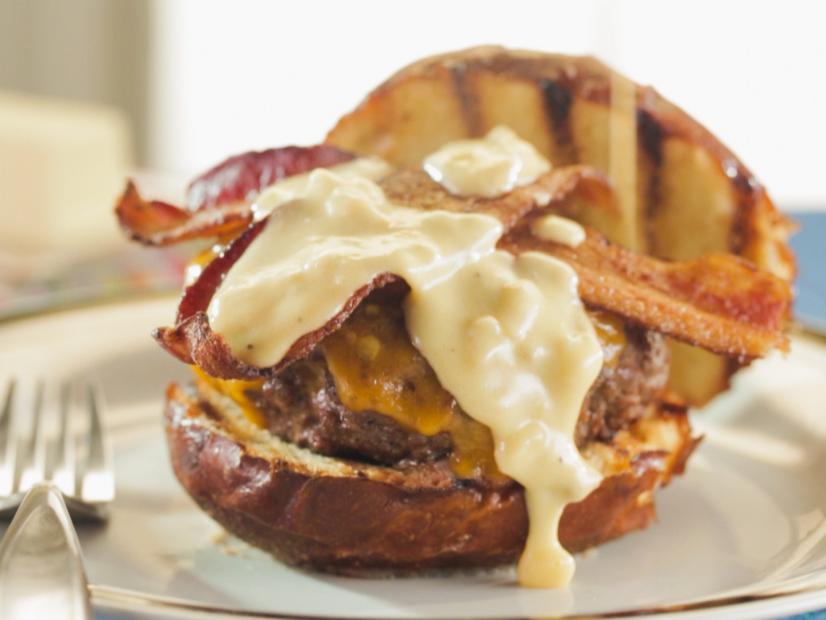 4 slices bacon
1 1/3 pounds ground grass-fed beef
2 cloves garlic, grated on a fine grater
1 tsp. kosher salt
1 tsp. freshly ground black pepper
4 potato buns or other burger buns
Condiments: mustard, mayonnaise, and ketchup
4 slices of Tillamook Cheddar, if desired/
4 ounces extra-sharp Tillamook Cheddar, cut into chunks
1 scallion, ends trimmed, roughly chopped
1 clove garlic
¼ C. lager or pilsner beer, such as pFriem Export Lager
2 T. cream cheese or butter
1 T. Worcestershire sauce Kosher salt
Freshly ground black pepper
Make the beer cheese: In the bowl of a food processor, pulse together the cheese, scallion, and garlic until finely chopped. Add the beer, cream cheese, and Worcestershire sauce and process until pureed. Taste and season with the salt and black pepper. Refrigerate until ready to use; beer cheese can be made several days ahead. Make the burgers: In a sauté pan over medium heat, cook the bacon, turning occasionally, until brown and crisp, about 7 minutes. Remove from the heat. Transfer to a paper towel-lined plate and transfer the bacon grease to a small bowl or measuring cup. In a medium mixing bowl, combine the beef, 1 to 2 T. bacon grease (use the larger amount if the beef is lean), garlic, 1 tsp. salt, and 1 tsp. black pepper and mix with your hands until well combined. Shape into 4 burgers about V2 inch thick. Using the back of a spoon, make a shallow 1-inch-wide indentation in the center of each burger. (This will help them cook evenly and prevents them from shrinking.) Heat the grill to medium (35O°F to 450° F). Place the burgers on the grill and, with the lid closed, grill until charred on one side and they release easily from the grate, 4 minutes. Turn  (add cheddar now, if using) and cook the other side until a thermometer inserted in the side and pushed all the way to the center reads 155°F, about 4 minutes more. Place the buns, cut sides down, and grill until lightly toasted, about 1 minute.  4 Spread the buns with your choice of the condiments. Place the burgers on the buns, spread each patty with the beer cheese, top with the bacon, and garnish as desired.