Rubber Chicken Meals
Rubber Chicken Meals
Meal 1 Rubber Chicken Version: Lemon-Thyme Spatchcock Chicken
1 large Lemon
¼ C. EVOO
1 T. chopped fresh Thyme
1 tsp. dried Oregano
3-4 lb. whole Chicken, spatchcocked
2 ½ tsp. Salt, divided
½ tsp. Pepper
1 lb. New Potatoes, halved
1 head Garlic, cloves separated and peeled
Preheat the oven to 425°F (220°C). Zest half the lemon; juice the whole lemon. In a small bowl, whisk together the lemon zest, lemon juice, extra-virgin olive oil, thyme and oregano. Lay the chicken skin side up in a large roasting pan and brush the herb mixture over the chicken. (If you have the time, allow the chicken to marinate in this mix in an extra-large plastic bag for an hour.) Season the chicken with 2 tsp. (10 ml) salt and ¥2 tsp. (2 ml) pepper. Meanwhile, in a large bowl, toss your potatoes, garlic cloves, oil and remaining ¥2 tsp. (2 ml) salt. Scatter the potatoes and garlic around the chicken in a single layer. Roast for 40 to 45 minutes, until a thermometer inserted into the thickest portion of the breast reads 165°F (74°C). Let the chicken rest for 10 minutes. Carve—putting some meat aside for your next transformer—and serve with the potatoes, garlic and side salad.
Meal 2 Rubber Chicken Version: Lemon Thyme Chicken Dinner Salad
1 ½ -2 C. leftover diced chicken breast
4 C. sliced romaine lettuce
2 C. mini kale
2 C. small halved multi-colored potatoes, boiled and tossed with oil and salt
4 soft boiled eggs, cut in half
1 C. sliced carrot (I use a mandolin)
1 C. halved cherry tomatoes
1 C. diced cucumber
1/2 C. shaved asiago or parmesan cheese
1/4 C. diced green onion
1/2 tsp. fresh chopped thyme
Dressing
1/4 C. extra virgin olive oil
zest of 1/2 lemon
2 T. .Mayonnaise
1 T.. white wine vinegar
1/2 tsp. honey
1/4 tsp. Dijon mustard
salt and pepper
Method
In a very large bowl, mix romaine lettuce and mini kale. Place cooked potatoes, eggs, carrot, cherry tomatoes, cucumber and cheese in groups on top of the salad. Add leftover chicken to top of salad. In a bowl, whisk the olive oil, zest, mayo, vinegar, honey, mustard and salt and pepper. Set aside. Sprinkle the entire salad with the green onions and fresh thyme. Allow each person to dress their own salad.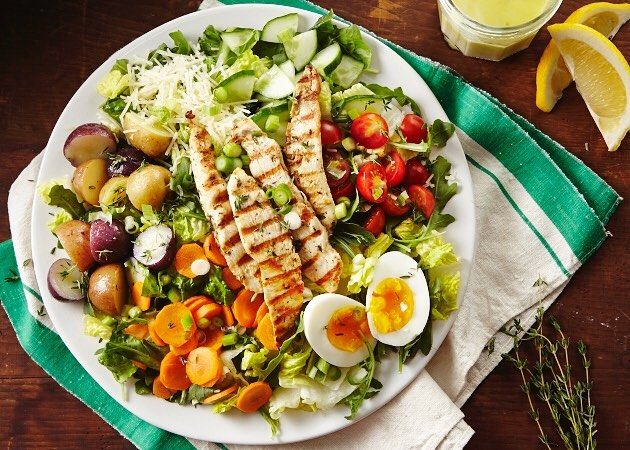 Meal 3 Rubber Chicken Leftover Lunch Apple and Chicken Salad Boats
In a medium bowl, mix the first five ingredients together until mayo is incorporated throughout. Remove small center leaves from romaine hearts to create a little pocket. Spoon chicken salad into the boat halves.