Hawaiian Guava Cake
Hawaiian Guava Cake
Hawaiian Guava Cake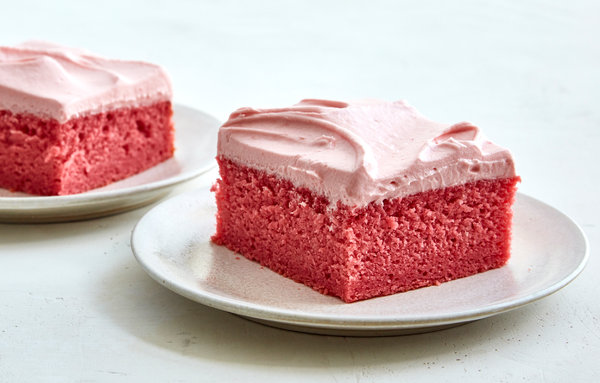 2 1/2 C. cake flour
2 1/2 tsp. baking powder
3/4 tsp. kosher salt
1/2 C. unsalted butter, at room temperature
1 1/4 C. sugar
6 large egg whites
1/4 C. neutral oil
1 C. whole milk
2 tsp. vanilla extract
1 C. guava puree or guava concentrate
3 squeezes of red gel coloring (optional)
for the frosting:
1 C. heavy whipping cream
8 oz. cream cheese, at room temperature
1/2 C. sugar
pinch of kosher salt
2 squeezes of red gel food coloring (optional)
1/2 C. guava puree or guava concentrate
To make the cake, preheat the oven to 350°F. Line a 9 by 13-inch baking pan with parchment, leaving some overhang on the long sides.
In a bowl, combine the cake flour, baking powder, and kosher salt, whisking until combined. In a stand mixer fitted with the paddle attachment, combine the butter and sugar and beat on medium speed until well combined, about 3 minutes. Add the egg whites, in three additions, beating each addition until well combined, about 1 minute. Add the oil and mix until combined, about 1 minute more. In a separate bowl, whisk together the milk, vanilla, guava puree, and food coloring (if using). On low speed, alternate between adding the wet and dry ingredients, mixing each until combined before adding the next addition.
Pour the mixture into the parchment-lined pan and bake until a toothpick inserted into the center comes out clean, 25 to 30 minutes. Let the cake cool in the pan for 10 to 15 minutes before transferring it to a wire rack to cool completely.
To make the frosting, in a stand mixer fitted with the whisk attachment, whip the cream on medium speed for 1 to 2 minutes, until frothy. Gradually increase the speed to high and whip until it's light and fluffy with stiff peaks, another 2 to 3 minutes. Don't overwhip! Transfer the whipped cream to a bowl. Replace the bowl on a stand mixer and fit the machine with the paddle attachment; there's no need to clean the bowl. Place the cream cheese in the bowl and mix on medium speed for 2 to 3 minutes, until smooth. Add the sugar and kosher salt and increase the speed to high. Beat until light and fluffy, 2 to 3 minutes. Lower the speed to medium and add the food coloring, if desired. Gradually pour in the guava puree in four additions, making sure the puree is fully incorporated after every addition. Scrape down the sides with a rubber spatula after the second and final addition. Increase the speed to high and beat until smooth and well incorporated, 1 to 2 minutes. Remove the bowl from the stand and, using the spatula, fold in the whipped cream in three additions, incorporating completely after each addition.
Spread the frosting on the cooled cake, using an offset spatula to smooth it over the edges, and chill for at least 2 hours before serving. Cut into twenty-four pieces and serve immediately.