One Pot Pasta with Zucchini, Garlic Scapes, and Leeks in a White Wine Lemon Sauce
One Pot Pasta with Zucchini, Garlic Scapes, and Leeks in a White Wine Lemon Sauce
One Pot Pasta with Zucchini, Garlic Scapes, and Leeks in a White Wine Lemon Sauce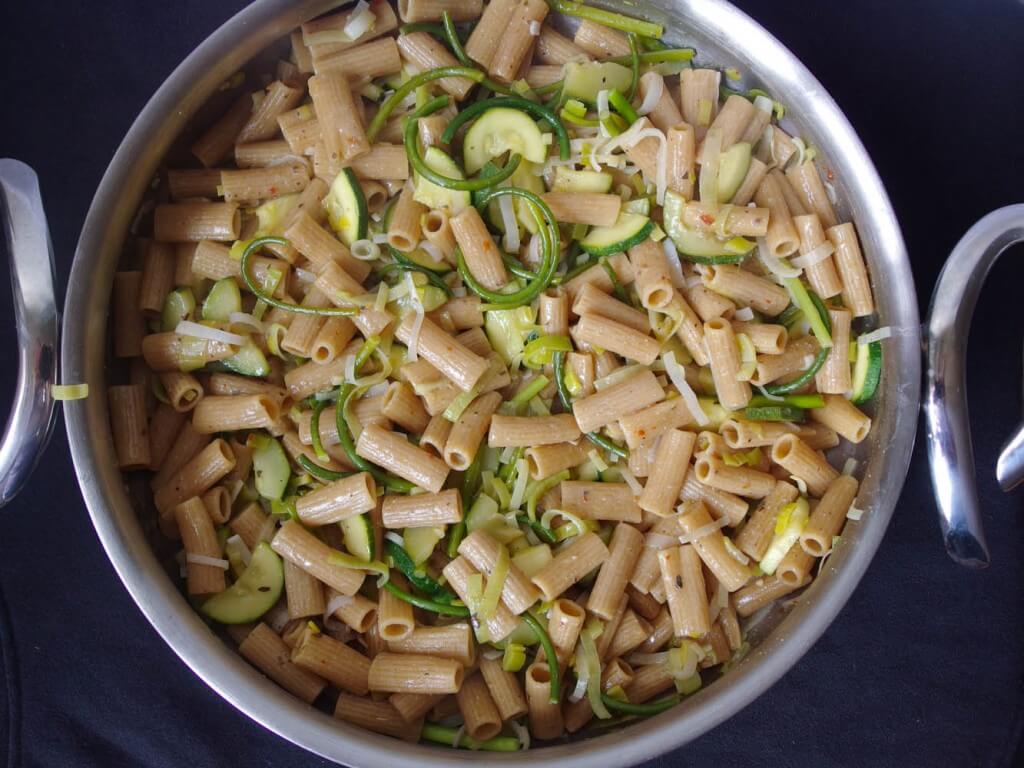 2 tsp. olive oil
2 leeks white and light green parts (see notes)
12 oz whole wheat rigatoni (see notes)
1 small bunch garlic scapes (see notes)
1 large zucchini cut into quarter moons
1/4 tsp. red pepper flakes
1 tsp. dried oregano
1/4 tsp. salt scant (adjust depending on how salty your broth is – mine was not salty)
pinch ground black pepper
1 tsp. lemon zest loosely packed
1 T. lemon juice
1/2 cup white wine of choice
1/2 cup plain , unsweetened almond milk
2 cups low-sodium vegetable broth
fresh basil
Heat the olive oil in a large, deep skillet or saucepan over medium heat. Add the chopped leeks (and minced garlic if substituting for the garlic scapes). Stir and cook for 3 to 5 minutes, or until the leeks are somewhat softened. Add the pasta, garlic scapes, zucchini, spices, and lemon zest. Pour the lemon juice, white wine, almond milk, and vegetable broth over the top. Bring the mixture to a boil and then reduce to a simmer. Keep partially covered, and stir frequently, cooking until the pasta is done to your liking and the liquid is thickened – about 7-10 minutes. Add salt to taste. Serve topped with fresh basil. The sauce will thicken up a little more once cooled.
To use white, instead of whole wheat pasta, increase the liquid by about 1 cup (please note that I haven't tested yet with this recipe, but a similar substitution has worked in other recipes). Other pasta shapes should also work. My opinion is that spaghetti/linguine are the best choice, since the more textured pasta shapes can get slightly gummy – they still taste great, though.
If you intend to use this for leftovers then I would recommend adding another small drizzle of olive oil to the cooking liquid, to help keep the pasta from sticking together when it cools.