Instant Pot Chicken Bacon Chowder
Instant Pot Chicken Bacon Chowder
Instant Pot Chicken Bacon Chowder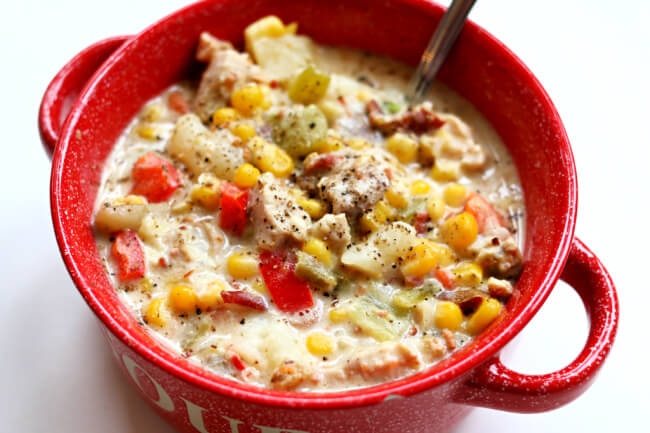 1 T. olive oil
1 yellow onion, diced
2 cups chicken broth
6 boneless, skinless chicken thighs or 2 pounds boneless, skinless chicken breasts
3 carrots
3 celery ribs
3 large Russet potatoes
1 (16 oz) bag frozen corn
1 (4 oz) can diced green chiles
1 (3 oz) package real bacon bits
1 (8 oz) package cream cheese
1 red bell pepper
4 green onions
Salt and pepper
Turn your Instant Pot to the sauté setting. When the display says HOT add in the oil and swirl it around. Add in the diced onion. Sauté for about 4 or 5 minutes. Pour in the broth. Let the sauté setting stay on while you prepare the rest of your ingredients.  Cut excess fat off of your chicken. Cut the chicken into 1 inch cubes. Peel and slice the carrots into ½ inch rounds. Dice the celery. Peel potatoes, if desired. Cut them into 1 inch cubes. Add chicken, carrots, celery and potatoes into the Instant Pot. Add in the frozen corn and the green chiles. Stir. Cover the pot and secure the lid. Make sure the valve is set to sealing. Set the SOUP button to 5 minutes (if you don't have a soup button then use the manual or pressure cook button).
Dice up your bell pepper and green onion. Lay the cream cheese on the counter to get a little soft.
When the time is up let the pot sit there for an additional 5 minutes (L0:05) and then move the valve to venting. Remove the lid. Stir in the bacon, cream cheese, red pepper and onions. Once the cream cheese is melted test the soup. Add salt and pepper to taste. Â Ladle into bowls and enjoy!
Yield: 10 servings
Calories: 398
Fat: 16g
Fiber: 4g