Salami Chips with Roasted Garlic White Bean Dip
Salami Chips with Roasted Garlic White Bean Dip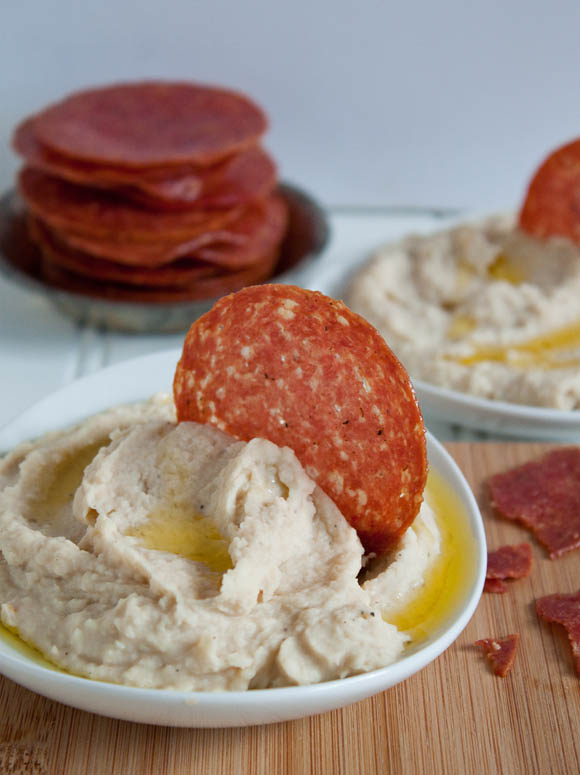 Salami Chips with Roasted Garlic White Bean Dip
1 whole head of garlic
1 tsp. olive oil
1 14-oz. can Great Northern white beans, drained and rinsed
1/4 tsp. salt
1/4 tsp. black pepper
3 T. olive oil
1 T. fresh lemon juice
2-3 T. warm water
For the salami meat chips:
4 oz. very thinly sliced salami
First, preheat the oven to 375. Slice the top off of the head of garlic and place it in a small baking dish. Pour the olive oil on top and let it soak in while the oven preheats. Roast the garlic for 45 minutes. Remove from the oven but keep the oven on. Meanwhile, make the bean dip: squeeze the cloves from the garlic bulb into the bowl of a food processor. Add all remaining ingredients. Pulse until smooth. Use extra warm water to thin it out, if desired. To make the salami chips, lay out the slices of salami on a large baking sheet. It's fine if they slightly overlap because they will shrink as they cook. Bake at 375 for 9-12 minutes, until the edges start to slightly brown and curl. They will further crisp as they cool. The salami chips stay crispy for up to 2 days.