Zoodle Pizza Casserole
Zoodle Pizza Casserole
Zoodle Pizza Casserole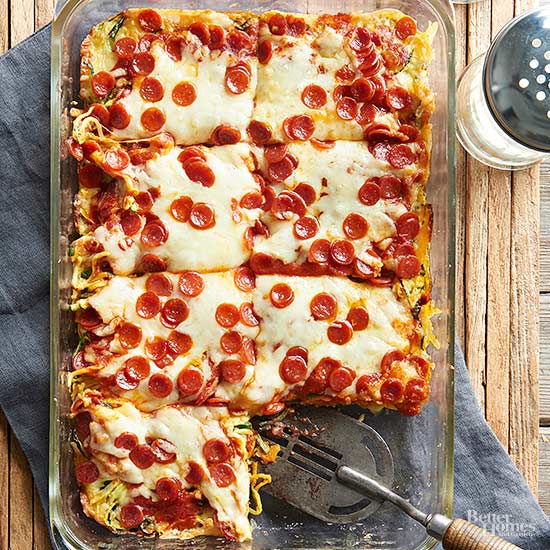 Nonstick cooking spray
3 10 ounces zucchini
1 ½ teaspoons kosher salt
2 eggs, lightly beaten
2 cups shredded mozzarella cheese (8 oz.)
¼ cup grated Parmesan cheese
¼ cup all-purpose flour
2 T. cornmeal
1 8 ounce can pizza sauce
½ cup miniature sliced pepperoni
Preheat oven to 400°F. Coat a 3-qt. rectangular baking dish with cooking spray. Using a vegetable spiralizer, julienne cutter, or mandoline, cut zucchini into long, thin noodles (zoodles). Place in a colander and sprinkle with salt; toss gently. Let stand 15 minutes. Pat dry with paper towels. In a large bowl combine eggs, 1/2 cup of the mozzarella cheese, the Parmesan cheese, flour, and cornmeal. Stir in zoodles. Transfer to prepared dish. Bake 10 minutes or until set and no excess liquid remains. Spread with pizza sauce. Top with remaining 1 1/2 cups mozzarella cheese and pepperoni. Bake 15 to 20 minutes more or until cheese is light brown.
If you don't have a spiralizer, julienne cutter, or mandoline, coarsely shred the zucchini, or halve the zucchini lengthwise and cut crosswise into 1/4-inch pieces. Continue as directed.
8 servings. 191 calories, (5 g saturated fat, 1 g polyunsaturated fat, 2 g monounsaturated fat), 75 mg cholesterol, 678 mg sodium, 12 g carbohydrates, 2 g fiber, 4 g sugar, 13 g protein.