Soft Parmesan Dinner Rolls
Soft Parmesan Dinner Rolls
Soft Parmesan Dinner Rolls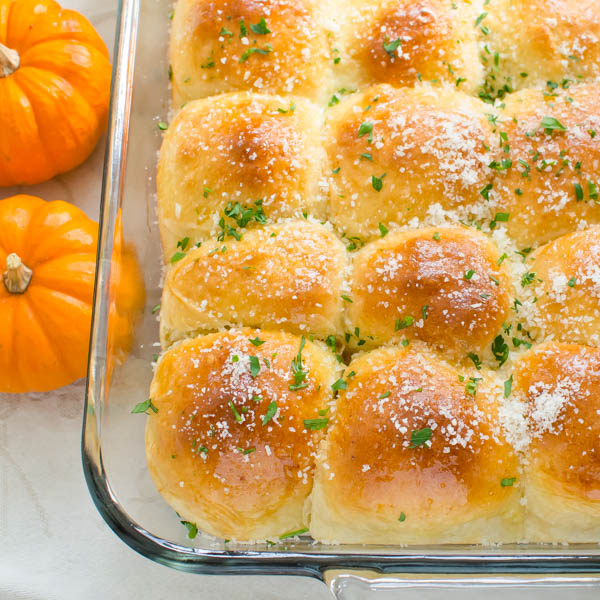 1 1/4 cups warm milk 100°-105°F
1 package rapid rise yeast
2 tablespoons sugar
1 1/2 teaspoons kosher salt
3 extra large eggs
4 tablespoons butter at room temperature
4 1/2 cups bread flour divided
1 cup parmesan cheese freshly grated
FOR TOPPINGS:
2 tablespoons butter melted
1/4 cup parmesan cheese freshly grated
2 tablespoons chopped parsley
In a small bowl, lightly beat 2 of the eggs with a fork and set aside. In the bowl attachment of a stand mixer combine the milk and yeast (Make sure the milk is between 100° and 105° — too hot and it will kill the yeast – and the rolls won't rise).  Use a conventional whisk to whisk together the yeast and the milk.  Add the sugar, salt, beaten eggs, butter, and 1 cup of the bread flour and the parmesan cheese.  Whisk together to combine. Add the remaining 3 1/2 cups of bread flour and place the mixing bowl in the stand mixer.  Attach the dough hook and knead the flour into the yeast mixture on medium speed for 6-7 minutes or until dough is soft and elastic. Lightly oil a large mixing bowl with canola oil and set the dough in the center, turning once or twice to get a light sheen of oil on the dough.  Cover the dough with a tea towel and set it in a cold oven to proof for one hour, or until doubled in size. Spray vegetable spray in a large rectangular pan (I used my lasagna pan 11″ x 15″) or use two smaller pans.  Divide the dough into quarters. Divide each quarter into sixths and roll each into a ball.  Place in the pan so that the dough balls do not touch.   Lay a piece of wax paper over the rolls and set in a cold oven to rise for another hour.  When the dough has doubled in volume, remove it from the oven and preheat the oven to 375°.
Lightly beat the remaining egg and brush it over the rolls.  The egg wash gives the rolls a sheen.  When the oven is hot, bake the rolls for 20 minutes. Remove the rolls from the oven and brush with melted butter.  Sprinkle with parmesan cheese and parsley.  Serve.