Confit de Canard
Confit de Canard
Confit de Canard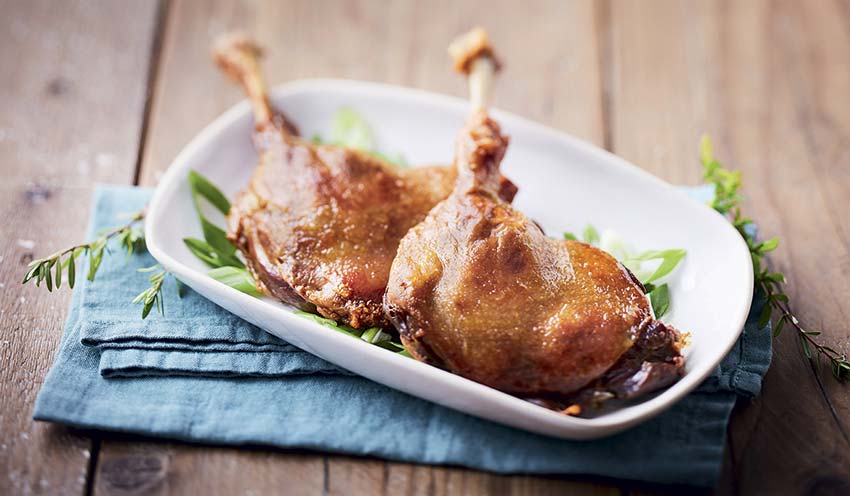 This recipe is adapted from Cuisine de France by Paul Bocuse (Flammarion, 1992).
2 duck legs
1/2 cup coarse sea salt or kosher salt
1 cup (250 g) rendered duck fat, or more
2 cloves garlic, unpeeled
2 branches fresh thyme
1 bay leaf
1/2 cup water
The day before you plan to cook the duck, place the legs in a bowl and cover them with the coarse salt. Refrigerate for 24 hours.  The next day, thoroughly rinse the salt off the duck under cold running water. Place on a rack to drain and pat dry with paper towels. In a large, heavy-bottomed pot or skillet, heat the duck fat, garlic, thyme, bay and water to a high simmer. Place the duck legs in the hot fat, skin side down. Turn down the heat — the fat should remain at a very low simmer throughout the cooking process. Check the duck occasionally to make sure the fat is simmering but not boiling. After an hour, turn the legs over so that they are skin side up, being very careful not to pierce the skin. Allow to cook at a low simmer for one hour more. Turn off the heat and remove the legs to a rack to drain. Strain the fat through a sieve into a bowl. Place the browned bits and garlic that remain in the sieve in a separate small bowl. Discard the thyme and bay leaf. When the duck has cooled, place it in a dish, cover with the strained duck fat and refrigerate. When the fat has cooled sufficiently, use a knife or spatula to spread it over the duck. You may continue with the recipe later in the day or leave the duck in the fridge for a day until ready to complete the cooking process. (If you are preparing your confit well ahead of time, you can preserve it in a large glass jar, sealed with the fat. In this case the fat must entirely cover the duck. It may be preserved in this way for up to 6 months, refrigerated.)  About 40 minutes before serving, preheat the oven to gas mark 7 (425 F, 220 C). Allow to preheat for 10 minutes.  Remove the duck from its dish or jar, scraping away most of the fat, and place in a baking dish, skin side down. Roast the duck in the hot oven for 15 minutes. Turn the legs over so that they are skin side up. Continue roasting for another 15 minutes, or until the skin is a crispy brown. Serve immediately, accompanied with seasonal vegetables and a hearty red wine. Serves 2. You may use the garlic cloves that you've set aside as garnish. The brown bits left over from cooking — known as 'grattons' in French — may be spread on toast and served during cocktail hour.