Mushroom Goat Cheese Galette
Mushroom Goat Cheese Galette
Mushroom Goat Cheese Galette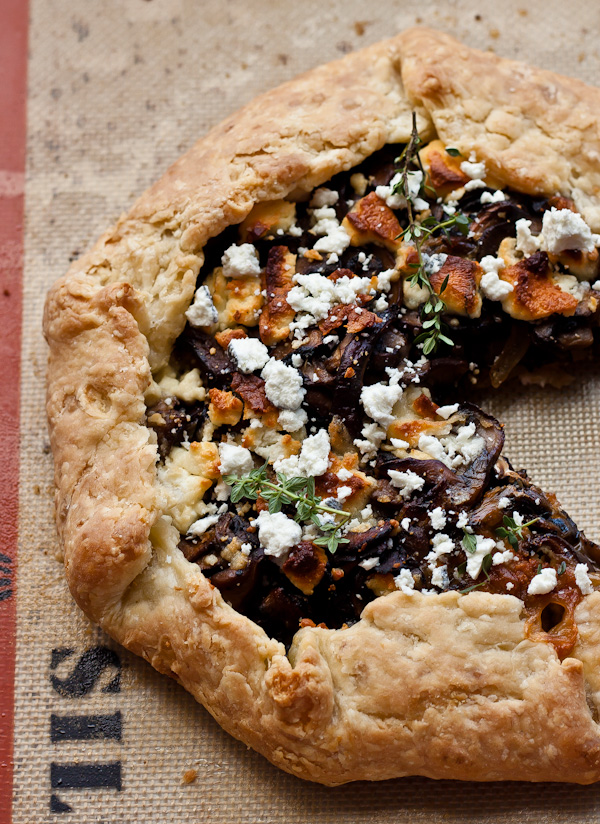 Sour Cream Pastry Dough:
1 1/4 C. all-purpose flour, chilled in freezer for 10-15 minutes
1/4 tsp. salt
1/2 C. (1 stick) frozen unsalted butter, cut into small chunks
1/4 C. sour cream, very cold
2 tsp. fresh lemon juice
1/4 C. ice water
Mushroom & Goat Cheese Filling:
2 T. unsalted butter
1 1/2 lbs thinly sliced mushrooms (equal amounts of shiitake and cremini)
1/2 large yellow onion, finely julienned
3-4 cloves of garlic, smashed
1/2 C. dry sherry
large sprig of fresh thyme
large sprig of fresh rosemary
salt
pepper
5 ounces Humboldt Fog goat cheese (or another ripened young goat cheese), separated
Prepare Dough: Combine salt and flour in bowl. Add chunks of butter and using a pastry cutter, cut the butter into the flour until the mixture resembles coarse meal and butter pieces are no bigger than the size of small peas. In another bowl, whisk together the ice water, cold sour cream, and lemon juice. With fingertips or wooden spoon, slowly add the liquid mixture to the dry mixture until large lumps form. Pat all the lumps into a large ball–do not overwork the dough. Cover with plastic wrap and refrigerate for 1-2 hours (if dough is too soft after an hour, allow to chill for another hour).
PREPARE FILLING: Heat very large (more surface area the better) skillet over very high heat. Add butter, followed by mushrooms, spreading into a single layer with a wooden spoon. Continue to saute–the mushrooms will quickly begin to release their moisture–keep cooking until most of the liquid has evaporated. Add the sliced onion and smashed garlic and continue to saute until the onions are translucent–and the mushrooms and onion begin to caramelize and the bottom of the pan has formed a nice light brown fond. Remove the pan from heat and deglaze with the dry sherry. Place back on the heat, add the sprigs of thyme and rosemary, and continue to cook over medium high heat until all of the sherry has evaporated. Season with salt and pepper to taste. Remove and spread out on a baking sheet and allow to cool to room temperature. (Before using, discard the large sprigs of thyme and rosemary and garlic cloves).
Assemble Galette: Preheat the oven to 400 degrees (F). Remove the dough from the fridge and on a floured work surface, roll out into a 12-inch round. Transfer to a parchment lined baking sheet. Crumble 3 ounces of the goat cheese into a bowl, add the (cooled) mushroom mixture, and stir gently. Spread the mixture into the center of the dough–leaving a 1 1/2 inch border on the sides. Fold and pleat the edges of the dough border over the mushrooms–leaving the center exposed. Bake for 30 minutes–remove from the oven–sprinkle with remaining 2 ounces of goat cheese–and continue to bake for another 5-10 minutes. Remove from oven, allow to stand for 5 minutes on cooling rack. Transfer to serving plate. Serve hot, warm, or at room temperature.