Vegetarian Grilled Vegetable Sandwich with Olive Tapenade
Vegetarian Grilled Vegetable Sandwich with Olive Tapenade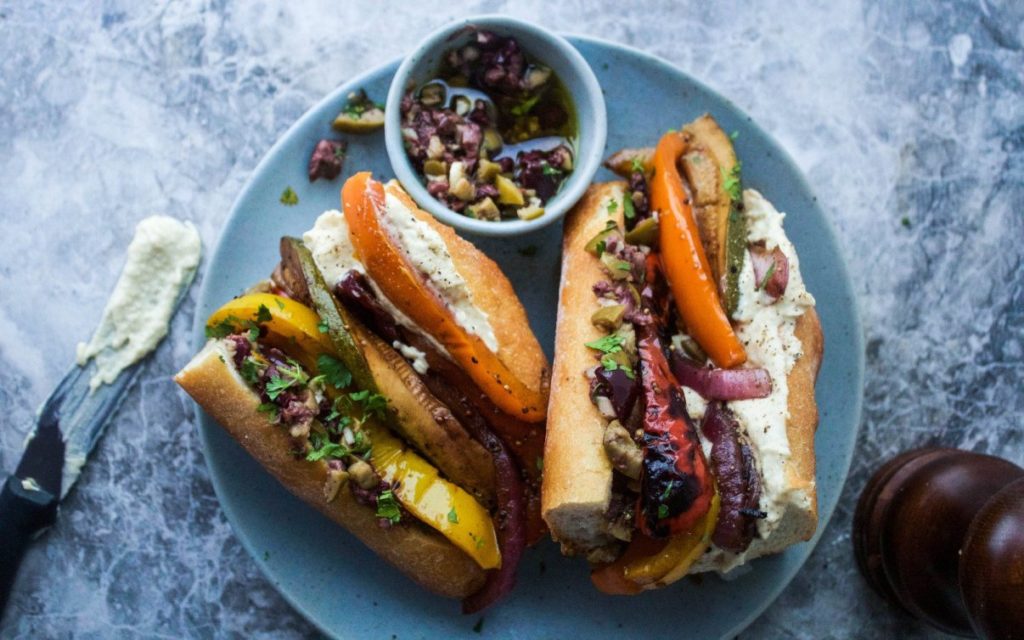 Vegetarian Grilled Vegetable Sandwich with Olive Tapenade
1 carrot, thinly sliced
1 zucchini, thinly sliced
1 red bell pepper, cored, seeded and cut into large pieces
6 scallions, trim off bottom root and top (6-inch slice)
1 Japanese eggplant, thinly sliced
1 head Belgian endive, slice root off, keep leaves whole
2 whole wheat rolls
Tapenade:
10 calamata olives, pitted
½ shallot, peeled and sliced
1 tsp. capers
½ tsp. olive oil
Sandwich: Grill carrots, zucchini, bell peppers, eggplant and scallions until soft and caramelized. Â Tapenade: In a food processor, chop all ingredients into a fine paste. Cut rolls in half and toast until light golden brown. Spread tapenade on both sides of rolls and build a great vegetarian sandwich with all of the grilled vegetables.