WIW: Shrimp & Waffles
WIW: Shrimp & Waffles
WIW: Shrimp & Waffles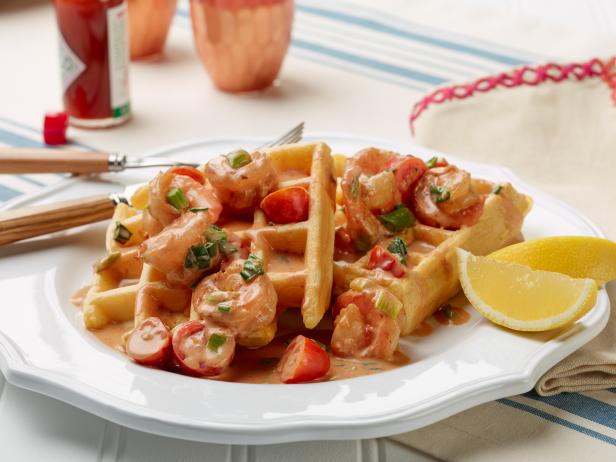 Waffles:
1 C. cornmeal
1 C. all-purpose flour
1/2 C. grated Parmesan
2 tsp. baking powder
Kosher salt
1/4 tsp. cayenne pepper
1/4 tsp. garlic powder
1 1/2 C. buttermilk
3 T. grapeseed or vegetable oil
1 T. packed light brown sugar
2 large eggs
Cooking spray
Shrimp:
1 lb. large peeled, deveined shrimp, tails removed
Kosher salt and freshly ground black pepper
2 T. olive oil
1/2 C. dry white wine
1 C. grape or cherry tomatoes, halved
4 scallions, sliced
4 T. unsalted butter, cut into pieces
1/4 C. grated Parmesan
2 tsp. hot sauce, plus more for serving
Lemon wedges, for serving
For the waffles: Whisk together the cornmeal, flour, Parmesan, baking powder, 1 tsp. salt, cayenne, garlic powder and a few grinds of black pepper in a large bowl. Whisk together the buttermilk, grapeseed oil, sugar and eggs in a medium bowl. Pour the wet mixture into the dry mixture, and gently stir until just incorporated (it's OK if there are some lumps). Let the batter rest for 15 minutes. Â Meanwhile, preheat a waffle iron to medium-high. Preheat the oven to 200 degrees F. Spray the top and bottom of the waffle iron with cooking spray. Fill the waffle iron about three-quarters full of batter (some of the waffle iron should still be showing). Close the lid gently and cook according to manufacturer's directions until golden brown and crisp. Keep the cooked waffles warm in the oven. Â For the shrimp: Sprinkle the shrimp lightly with salt and pepper. Heat the olive oil in a large skillet over medium-high heat. Add the shrimp in a single layer and cook until they just start to turn bright pink on the bottom, 2 to 3 minutes. Add the wine, scraping up any browned bits on the bottom of the skillet, bring to a simmer and cook, stirring occasionally, until the shrimp are opaque and cooked through, 2 to 3 minutes (if the pan gets too dry, add water 1 T. at a time). Add the tomatoes and scallions and toss with the shrimp until the tomatoes just begin to soften, about 1 minute. Add the butter pieces and swirl the pan until there's a thick sauce. Stir in the Parmesan and hot sauce. Â Arrange 2 waffles per plate and spoon the shrimp and sauce evenly over the waffles. Serve with lemon wedges and more hot sauce.