Zucchini and Olive Breakfast Cake, French-Style
Zucchini and Olive Breakfast Cake, French-Style
Zucchini and Olive Breakfast Cake, French-Style
This French-style cake is baked in a loaf pan, using whatever ingredients are on hand.  I love having a basic cake recipe like this because it is simple to make and encourages my creativity in the kitchen with different flavor combinations. Next time, I will bake one with tomato, mozzarella, and basil. (I know these are not French ingredients, but that combination of flavors in a cake sound good to me, just the same.)  Since it is French, you know it would contain cheese, and Gruyère and Comté  come to mind immediately, of course, as well as parmesan, cheddar, feta, or goat cheese. A cake salé could also contain vegetables, herbs, meats, fruits, or nuts.  Instead of butter, use olive oil, which is healthier and lends a more subtle savory flavor.
This cake is more like a quick bread, or a cross in texture between a muffin and a quiche. It is made much like a muffin, with the dry ingredients mixed together in one bowl and the wet ingredients in another, and the two are combined.  To the American palate, this type of cake is more likely to be eaten for breakfast.  Yes, I, too, enjoyed it with my morning coffee, but I can also imagine this cake cut into small bites and served with an aperitif at my next dinner party.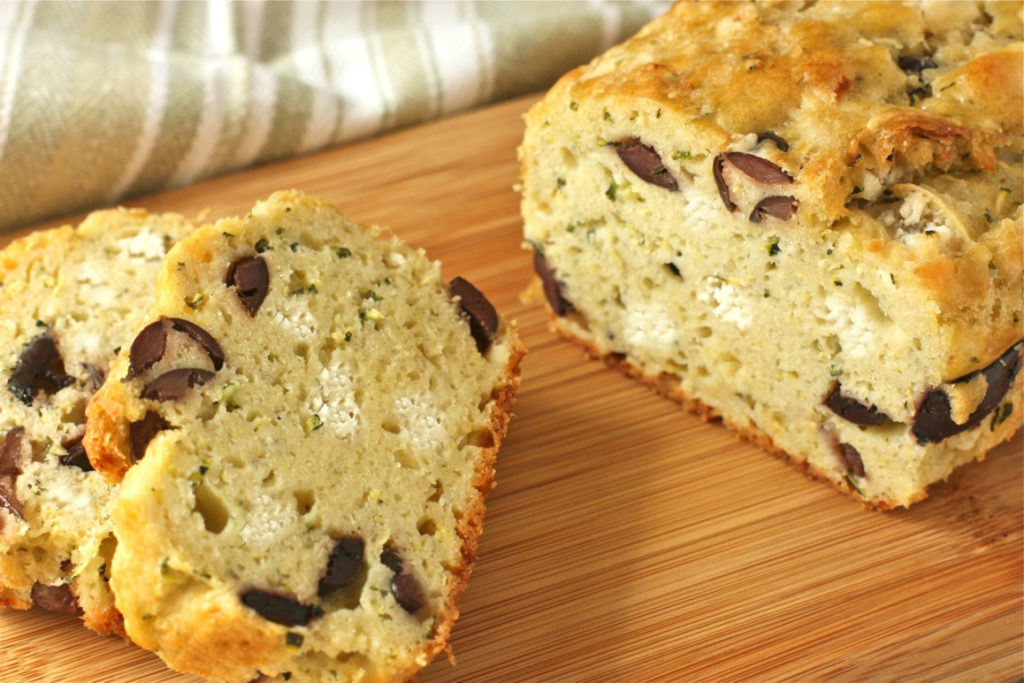 Makes 9×5 inch 1 loaf
1/3 C. olive oil, plus more for greasing the pan and drizzling
1/2 pound zucchini,
1 tsp. salt
1 large clove garlic, minced
1 3/4 C. all-purpose flour
2 tsp. baking powder
1/2 tsp. black pepper
3 large eggs
1/3 C. milk
2 ounces goat cheese, crumbled
1/2 C. Kalamata olives, pitted and sliced
Kosher salt
Heat the oven to 350°F. Lightly grease a 9×5 inch loaf pan with olive oil. Grate the zucchini on the coarsest side of a box grater. Place the zucchini in a colander in the sink, and toss with 1 tsp. of salt. Let drain while preparing the rest of the recipe.  In a large bowl, whisk the minced garlic with the flour, baking powder, salt and pepper. In a separate, medium bowl, lightly whisk the eggs, then whisk in the milk and olive oil. Use a rubber spatula to fold the wet ingredients into the dry until barely mixed. Fold in the crumbled goat cheese and the sliced olives. Press firmly on the zucchini in the colander, pressing out as much water as possible. Quickly fold the zucchini into the batter. Spread the batter in the prepared loaf pan, and drizzle lightly with olive oil. Sprinkle the top with kosher salt. Bake loaf for about 45 minutes, or until golden and a knife inserted in center comes out with a few crumbs attached.  Transfer to a rack to cool in pan for 5 minutes. Run a knife around edge to release. Turn out loaf onto rack to firm up before slicing, about 30 minutes; using a serrated knife, cut into 3/8-inch slices, then cut into halves or quarters.