Spinach and Tuna Stuffed Shells Pasta Casserole
Spinach and Tuna Stuffed Shells Pasta Casserole
Spinach and Tuna Stuffed Shells Pasta Casserole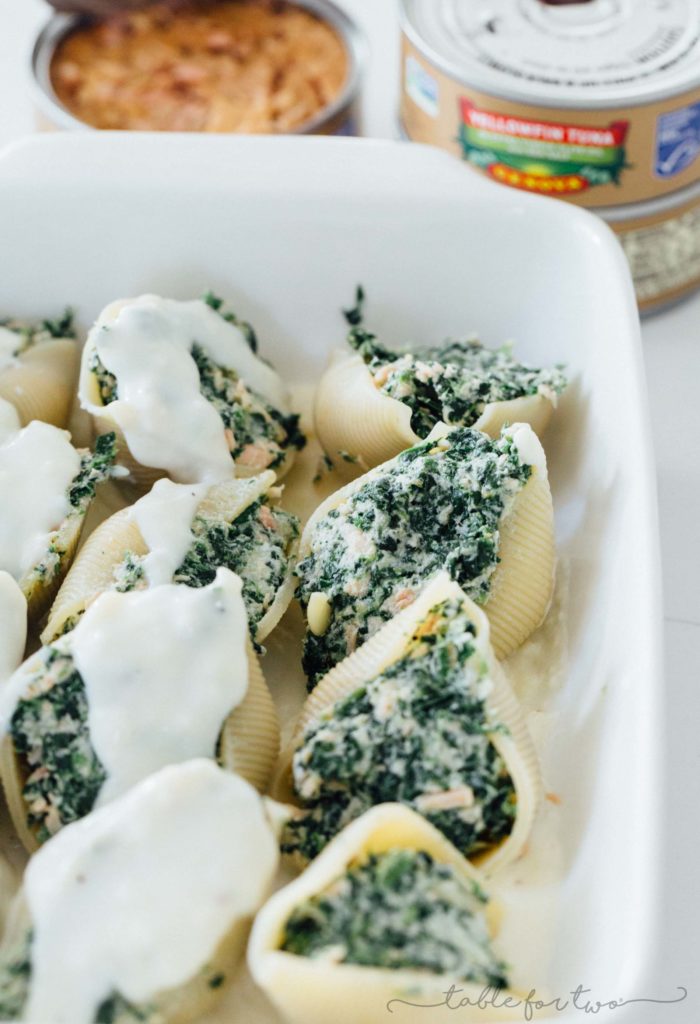 10 jumbo pasta shells cooked to al dente according to the instructions on the package
For the filling:
5 ounce Yellowfin Tuna in Olive Oil  (no need to drain)
6 ounces frozen chopped spinach, thawed and excess liquid squeezed out and drained
1/2 C. whole milk ricotta cheese
1/2 C. grated parmesan cheese
2 cloves of garlic, finely minced
Salt and pepper, to taste
2 T. unsalted butter
2 T. all-purpose flour
3/4 C. whole milk
1/4 tsp. ground nutmeg
Salt, to taste
For the topping
1 T. unsalted butter, melted
1/2 C. panko breadcrumbs
1/4 C. grated parmesan cheese
Preheat oven to 375 degrees Fahrenheit. In a small bowl, mix together the ingredients for the filling then set aside. In a small skillet, melt butter over medium-high heat then whisk in flour and cook for 30-45 seconds to cook off any raw flour taste. Carefully add in milk, whisking constantly to make sure there are no lumps. Add the nutmeg and salt, to taste. Let mixture thicken, about 3-4 minutes. Remove from heat. Add about 2-3 T. of the sauce to the bottom of an oven-safe casserole dish and spread in a thin, even layer. Using a spoon, fill the pasta shells with filling and continue until all the filling has been used. Place into the casserole dish. Pour the rest of the béchamel sauce on top of the shells. In a small bowl, stir together ingredients for the topping then sprinkle evenly on top of the pasta shells. Bake for 20-25 minutes until pasta is cooked through and the topping is browned.