Chinese Glazed Riblets with Garlic and Thai Basil
Chinese Glazed Riblets with Garlic and Thai Basil
Chinese Glazed Riblets with Garlic and Thai Basil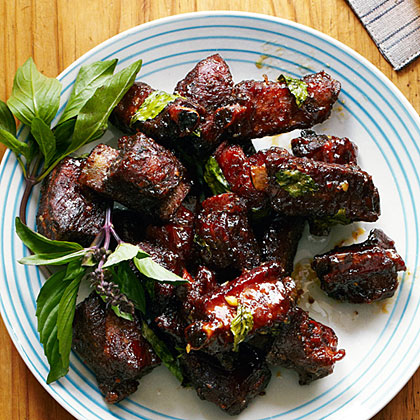 4 pounds pork spareribs trimmed St. Louis-style, membrane removed, cut in half across the bone*
3/4 cup mushroom soy sauce, or regular soy sauce plus 1 1/2 tbsp. molasses
6 tablespoons Shaoxing rice wine or dry sherry
1/2 teaspoon Chinese five-spice powder
3 star anise pods
3/4 cup coarsely chopped unpeeled fresh ginger
6 tablespoons sugar
6 tablespoons reduced-sodium soy sauce
1/2 cup Chinese red vinegar or unseasoned rice vinegar
1 tablespoon Thai or Vietnamese fish sauce
Vegetable oil for deep-frying, plus 1/4 cup oil for cooking in wok
1 cup cornstarch
3 tablespoons minced garlic
1/2 cup Thai basil leaves or small regular basil leaves, plus a few basil sprigs
Prepare ribs: Cut apart between bones. Rinse and put in a 6- to 8-qt. pot. Add 2 1/2 qts. water, cover, and bring to a boil. Skim and discard any foam. Add mushroom soy sauce, rice wine, five-spice powder, star anise, and ginger. Return to a boil, then reduce heat and simmer, covered, until meat is tender, 45 minutes to 1 hour.  Strain rib mixture through a colander set over a large bowl. Set bowl of braising liquid in a larger bowl of ice water. Let ribs and seasonings cool in colander, then return to liquid and chill, covered, at least 4 and up to 12 hours.  Meanwhile, make sauce: In a small bowl, stir together sugar, reduced-sodium soy sauce, vinegar, and fish sauce until sugar dissolves. Set aside.  Preheat oven to 250° and set a rimmed baking sheet in it. Pour 1 1/2 in. oil into a 5- to 6-qt. pot. Insert a deep-fry thermo­meter and heat oil over high heat to 350°. Meanwhile, skim and discard fat from bowl of ribs. Transfer ribs to a colander and discard seasonings. Working with one-quarter of ribs at a time, toss in a medium bowl with 1/4 cup cornstarch. Gently add ribs to oil. Cook until bones are browned and meat is crisp, 2 to 3 minutes. Transfer ribs to baking sheet in oven.  Heat a wok or 12-in. frying pan over medium heat. Add 1 tbsp. of remaining 1/4 cup oil. When it's hot, stir in one-quarter of garlic; cook about 15 seconds, then add one-quarter each of ribs and sauce. Cook, stirring with tongs (or a wide metal spatula, if using a frying pan), until sauce thickens and coats ribs well, 1 to 2 minutes. Stir in one-quarter of basil leaves; cook and toss ribs until basil turns bright green, about 15 seconds. Transfer to a platter. Scrape out excess sauce from wok and spoon over ribs.  Cook remaining ribs the same way, adding a splash of water and reducing heat if pan starts to scorch.
*Ask a butcher to trim and cut the ribs for you.
TRIM SPARERIBS ST. LOUIS-STYLE. Meaning, trim them into a tidy, rectangular shape that cooks evenly. Ask a butcher to trim them, or do it yourself: On the bony side, trim the flap of meat from the center, flush with the bones. Then cut the rack lengthwise between the 4- to 5-in.-wide rib section and the chewy skirt (above). Save scraps for soup.
REMOVE THE MEMBRANE. Pork spareribs have a membrane on the underside that can shrink up and make the meat cook unevenly. It's easy to remove: Slide the tip of a meat thermometer under the membrane at one end to loosen an edge. Pull off membrane with a paper towel (it may come off in pieces) while holding the rack down with your other hand.