Zucchini & Carrot Ribbons with Miso Dressing
Zucchini & Carrot Ribbons with Miso Dressing
Zucchini & Carrot Ribbons with Miso Dressing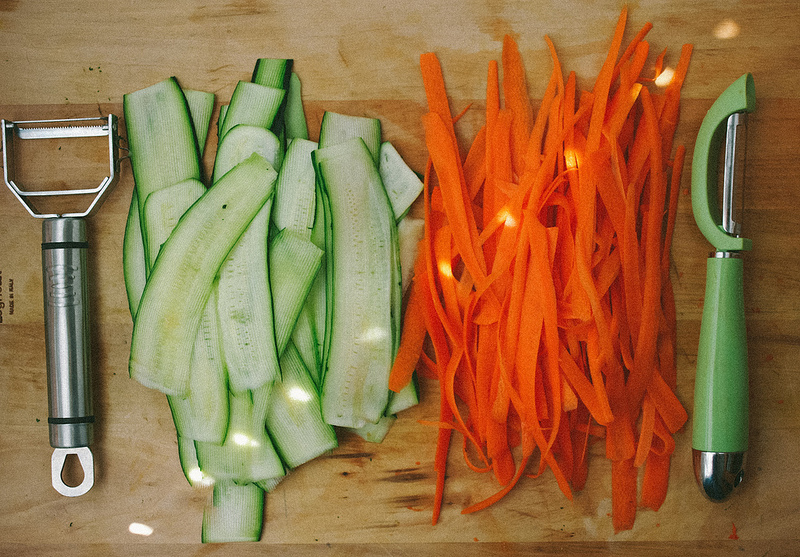 1 small zucchini (4 to 6 ounces)
Salt
1 small carrot
1/4 bell pepper (any color), stemmed, seeded, and thinly sliced lengthwise
2 scallions (white and pale green parts only), thinly sliced
2 tablespoons sesame seeds
1/4 to 1/2 teaspoon sriracha sauce or chili sauce (optional)
3 tablespoons Lemony Miso Dressing or store-bought miso, sesame, or peanut salad dressing
Trim and peel the zucchini. Use a vegetable peeler to shred it lengthwise into ribbons. (You will end up with a nubbin of zucchini that is too small for the peeler. Set it aside or use a knife to slice it thinly.) Place the zucchini ribbons on a kitchen towel or paper towels and sprinkle them lightly with salt. Set them aside to drain while you peel the carrot. Trim and peel the carrot, repeating the above technique in Step l to create narrow ribbons. Place them in a medium-size bowl. Squeeze the liquid out of the zucchini ribbons and add them to the carrots. Add the bell pepper, scallions, sesame seeds, sriracha, and dressing and toss to combine.
Lemony Miso Dressing
1/3 cup white or yellow miso
1 tablespoon hot water
Juice and minced zest of 1 lemon
1 or 2 cloves garlic, crushed
1/2 cup vegetable oil (not olive oil)
Whisk together the miso and water in a small bowl until smooth. (Strain it if you prefer it completely smooth, as miso can be a bit grainy.) Whisk in the lemon juice and zest and the garlic. Drizzle in the oil and whisk to combine.