Roasted Garlic & Rosemary No Knead Garlic Bread
Roasted Garlic & Rosemary No Knead Garlic Bread
Roasted Garlic & Rosemary No Knead Garlic Bread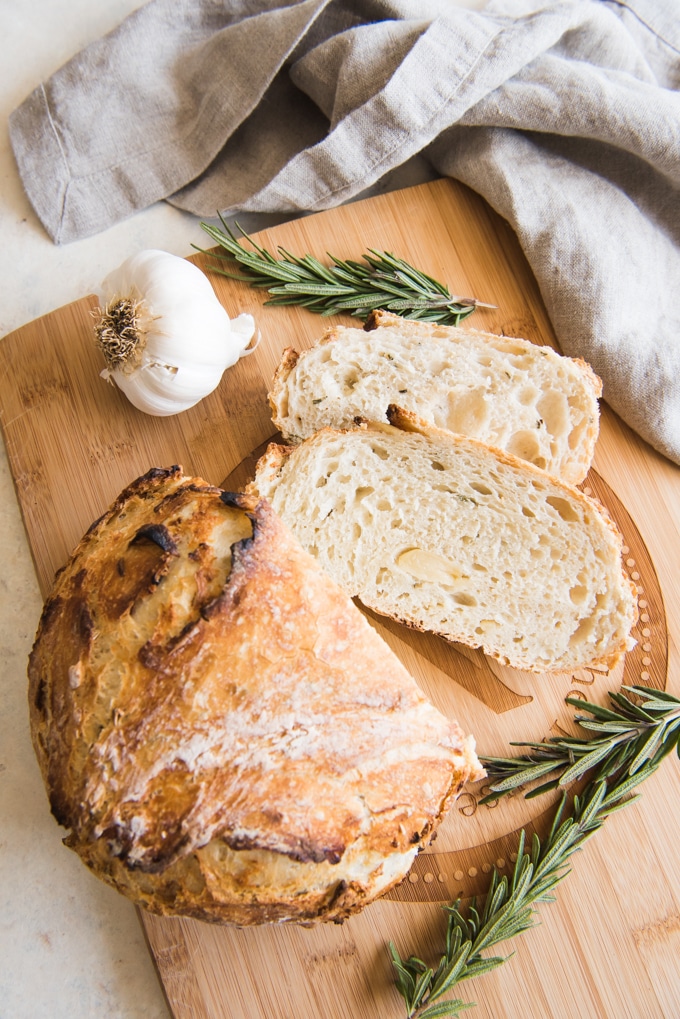 1 head garlic, roasted
1 tablespoon olive oil
3 cups all-purpose flour
1 1/2 teaspoons kosher salt
1/2 teaspoon active dry yeast
1 1/2 cups room temperature water
1 tablespoon fresh rosemary, chopped
To roast the garlic, heat the oven to 425 degrees.  Slice the top off the head of a garlic bulb to expose the cloves, then drizzle with 1 tablespoon of olive oil over the exposed garlic cloves.  Wrap in tinfoil and roast for 45 minutes, then remove from oven and cool until the soft garlic can be squeezed out of the papery skin.
In a large bowl, combine the flour, salt, yeast, rosemary, and roasted garlic.  Add the water and stir to combine, just until it starts to come together in a very shaggy dough.  Cover tightly with plastic wrap and let it sit on the counter at room temperature for 12-18 hours.
When you are ready to bake the bread, place a dutch oven, pizza stone, or other oven-safe pan in the oven to preheat and heat the oven to 450 degrees.
Working on a clean, well-floured surface, turn the dough out onto the counter or table and shape into a ball using floured hands.  The dough will be very sticky.   Drop the ball of dough into the preheated dutch oven or other baking dish, cover with lid or an oven-safe bowl, and bake for 30 minutes with the lid on.  Remove the lid and bake for another 10-15 minutes, until golden brown and crusty on top. Remove bread from the dutch oven to cool completely before slicing.
Recipe Notes
I have switched it up and used bread flour in place of all-purpose flour with good results, or some combination of the two, if you prefer bread flour for making bread. Preheating the dutch oven prevents the bread from sticking to the bottom, but if you are concerned, you can slide the ball of dough onto a piece of parchment paper before placing in the dutch oven.
Try adding 1 to 1 1/2 cups of mix-ins in the following combinations in place of the roasted garlic & rosemary for a totally different and delicious bread!
Cranberry Pecan
Hazelnuts & Dried Cherries
Cheddar Jalapeno
Cranberry, Orange Zest, & Sliced Almonds
Raisin Walnut Cinnamon
Pumpkin, Sunflower, & Poppy Seeds
Sun-dried Tomato with chopped Basil
Lemon zest, Thyme, & Asiago
Pepperoni & Mozzarella
Dark Chocolate, Dried Cherry, Pecan
Or leave out any mix-ins for a perfectly wonderful plain loaf that will go with any soup, salad or dinner!