Green-On-Green Sandwiches
Green-On-Green Sandwiches
Green-On-Green Sandwiches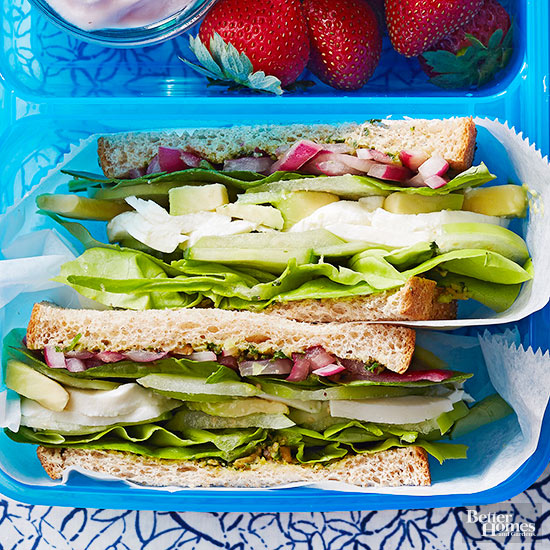 4slices whole grain bread
2T. Herb Pesto (recipe below)
1/4 C. Pickled Red Onions (recipe below)
1/2C. large spinach leaves
1medium tomatillo or tomato, very thinly sliced
1/4 avocado, thinly sliced and brushed lightly with lime juice
1ounce thinly sliced fresh mozzarella cheese
1/2C. scored and thinly sliced English cucumber
4 leaf or bibb lettuce leaves
Place bread slices on a cutting board. Spread slices evenly with the Herb Pesto. Arrange Pickled Red Onions evenly over two slices. Layer the spinach, half of the tomatillos, the avocado, cheese, the remaining tomatillos, cucumbers, and lettuce over onions. Top with the remaining two slices bread, pesto side down. Wrap sandwiches tightly in plastic wrap. Chill for at least 30 minutes before serving.
Pickled Red Onions
1 large red onion, halved and thinly sliced (2 C.)
1/2C. red wine vinegar
1T. sugar
1/4tsp. salt
In a medium bowl combine vinegar, sugar, and salt, stirring until sugar dissolves. Stir in onion. Cover and let stand at room temperature for 1 1/2 hours, stirring occasionally. Chill for longer storage (up to 3 days). Drain before using.
Herb Pesto
1 1/2 C. packed fresh basil leaves
1/4C. slivered almonds, toasted
2T. snipped fresh flat-leaf Italian parsley
2 T. snipped fresh tarragon
1 large clove garlic, quartered
3T. olive oil
1/4tsp. cracked black pepper
1/8tsp. salt
In a food processor or blender combine basil, almonds, parsley, tarragon, and garlic. Process until herbs are finely chopped. Add oil, pepper, and salt; process to a coarse puree. Transfer pesto to a small bowl and press plastic wrap directly onto the surface of the pesto. Chill. May be made up to 1 week ahead.
Yield: 2 sandwiches
Calories: 302
Fat: 14g
Fiber: 7g