Herb-Marinated Steak with Lemon
Herb-Marinated Steak with Lemon
Herb-Marinated Steak with Lemon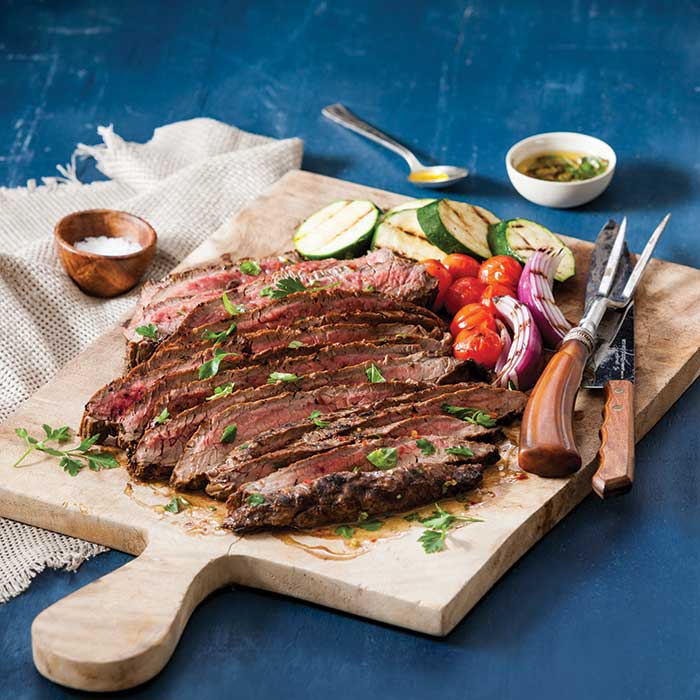 1 C. fresh basil leaves, plus torn basil leaves for garnish
3 scallions (white and green parts), thinly sliced, plus more for garnish
2 T. fresh lemon thyme or regular thyme leaves, plus more for garnish
2 T. fresh mint or dill leaves
2 fat garlic cloves
1 jalapeno, seeded (optional)
2 ½ tsp. kosher salt
Finely grated zest of 1 lemon
Juice of 1/2 lemon
1/4 C. extra-virgin olive oil
2 1/2 pounds boneless steak, such as skirt, strip, ribeye, flank, or London broil
In a blender or food processor, combine the basil, scallions, thyme, mint, garlic, jalapeno if using, salt, lemon zest, and lemon juice. Pour the olive oil over the mixture, and blend until it turns to a paste. Pat the steak dry with paper towels, and place it in a wide bowl. Slather the paste all over the meat, cover the bowl, and refrigerate for at least 30 minutes or as long as overnight. When you are ready to cook the steak, heat a grill or broiler to high. Use a paper towel to gently pat the meat dry, leaving as much paste as possible on the meat. Grill the meat over direct heat or under the broiler on a rimmed baking sheet or broiler pan until it is nicely browned on both sides (see below for cooking times). Then transfer the steak to a cutting board and let it rest for 5 to 10 minutes. Slice the steak against the grain and serve, garnished with basil, scallions and thyme.
Skirt Steak and other ½" thick steaks: 2-4 minutes per side
Strip, flank, filet mignon, ribeye and other 1 – 1 ¼" thick steaks: 3-6 minutes per side.
London broil and other 1 ½" – 2" thick steaks: 6-9 minutes per side.