Colombian-Style Chicken with Corn, Avocado, and Lime
Colombian-Style Chicken with Corn, Avocado, and Lime
Colombian-Style Chicken with Corn, Avocado, and Lime
This dish is very loosely based on a traditional Colombian dish called ajiaco. Somewhere between a soup and a stew, it's made from short ribs and chicken slowly simmered with three different kinds of potatoes that practically melt into the broth, their starch thickening and enriching it.
My version is a more minimalist interpretation. I nix the beef and potatoes to create a cleaner, deeper, and more focused chicken flavor, then dress that up with nubby corn, juicy tomatoes, and creamy avocado bobbing in a spicy, tangy, lime-scented broth. It's still a bountiful and richly diverse meal, but a little more manageable—even on a weeknight.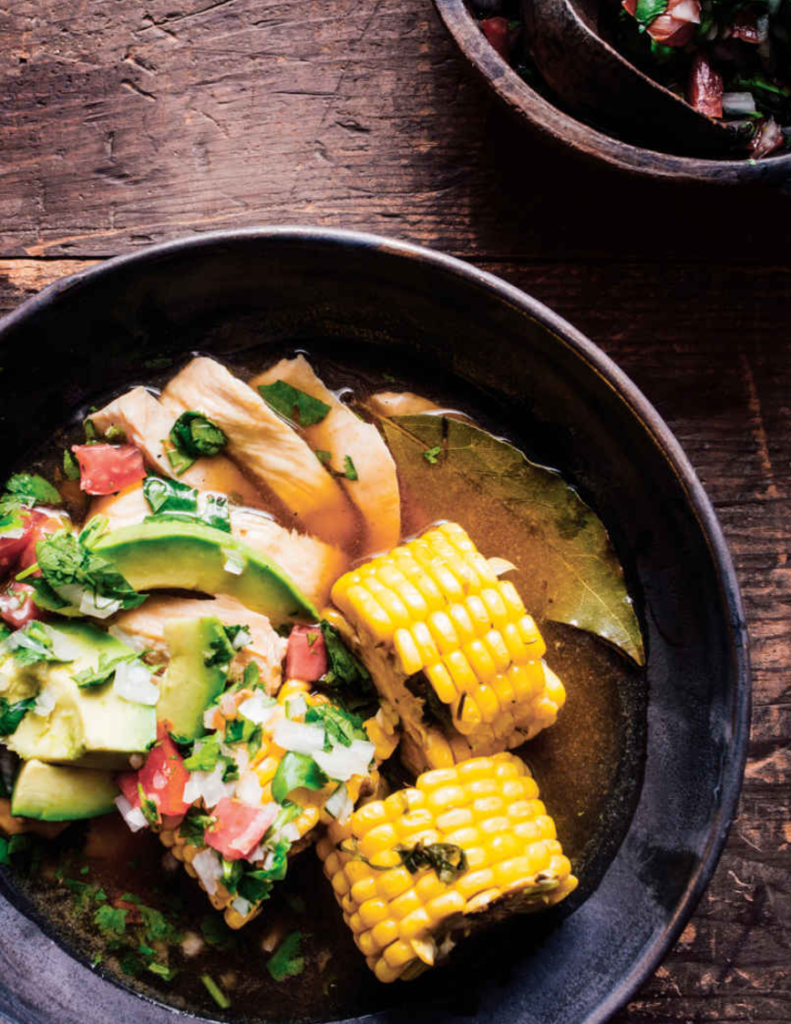 2 boneless, skinless chicken breasts (6 to 8 ounces each)
2 1/2 tsp. kosher salt
2 ears corn, shucked
1 bunch fresh cilantro (about 3 ounces)
1 large white onion
1 T. dried oregano
4 garlic cloves, smashed and peeled
1 bay leaf
1 jalapeno or serrano chile, seeded and sliced
1 quart chicken stock
1/3 C. diced fresh tomato
Grated zest of 1/2 lime
1 1/2 tsp. fresh lime juice, plus more for serving
Salsa, for serving
Diced avocado, for serving
Drained, brined capers (optional)
Season the chicken breasts with 1 tsp. of the salt and let them stand while you prepare the remaining ingredients. Using a sturdy knife, cut the ears of corn into 1 1/2-inch-thick rounds. Divide the cilantro into stems and leaves; coarsely chop both, but keep them separate. Slice two-thirds of the onion into thick rounds, and finely dice the remainder (you should have about ½ C. diced).   Place a 12-inch skillet over medium-high heat. Add the sliced onion to the hot dry skillet and cook without moving until the undersides are well browned, 3 to 5 minutes. Carefully flip the onions over and repeat on the other side. Stir the cilantro stems, oregano, garlic, bay leaf, and jalapeno into the onions. Pour in the stock and 1 C. water, and season with 1 tsp. of the salt. Bring to a simmer. Then lower the heat and cook gently for 15 minutes. Lower the chicken into the poaching mixture. Cover the skillet and cook on low heat until the chicken is no longer pink, 7 to 10 minutes. Add the corn pieces during the last 3 minutes of cooking. While the chicken cooks, combine the reserved diced onion, chopped cilantro leaves, tomato, lime zest and juice, and the remaining 1/2 tsp. salt in a bowl. Transfer the chicken and corn from the broth to a cutting board. Strain the hot broth into soup bowls; discard the aromatics. Slice the chicken and divide it among the bowls. Top each portion with corn, a spoonful of salsa, some diced avocado, capers if using, and a sprinkling of lime juice.