Uses for Spaghetti Sauce
Uses for Spaghetti Sauce
Uses for Spaghetti Sauce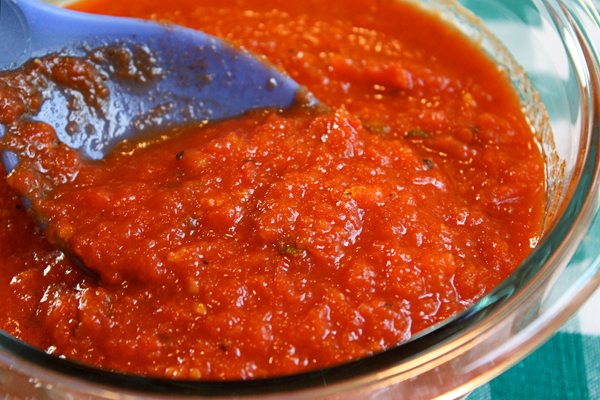 To flavor baked fish and keep it moist, bake fillets or whole fish in spaghetti sauce. Add a few olives, some herbs, and some citrus zest for more flavor.
For a quick sausage or steak sandwich, pan-fry your favorite sausages or thin-sliced top round sandwich steaks in a skillet. Remove the meat, then sauté sliced onions and peppers in the pan. Add your favorite spaghetti sauce and return the meat to the pan. Simmer for 5 minutes then serve on steak rolls.
To mix up a quick marinade for Southwestern-style chicken, combine 1 C. marinara sauce and 1 tsp. pure chile powder such as ancho chile powder.
Or use a blended seasoning such as chili powder. Use to marinate 1 pound chicken parts in the refrigerator for 1 to 3 hours.
For a speedy pizza, spread 3/4 C. spaghetti sauce over a prepared pizza crust (such as Boboli). Or for individual pizzas, use four pita bread rounds. Add 1 C. shredded mozzarella and 1/4 C. grated Parmesan if you like. Add any number of other toppings from anchovies to zucchini. Bake at 450°F until the cheese melts and is lightly browned, about 20 minutes.
To keep beef burritos moist and flavorful, brown 1 pound ground beef along with 1 chopped onion, 1 seeded and chopped red bell pepper, and a few chopped garlic cloves. Stir in 1 C. marinara sauce, 1 tsp. paprika, 1 tsp. dried oregano, 1/2 tsp. ground cumin, and 1/2 tsp. chili powder. Simmer on low for 15 minutes and serve with tortillas, shredded cheese, and salsa.
If you need an instant simmering liquid for clams or mussels, use jarred spaghetti sauce. Doctor up the sauce with saffron, white wine, fresh garlic, and/or chopped fresh herbs.
For a one-dish chicken meal, cook seasoned chicken parts in olive oil in a deep skillet until browned all over. Remove to a plate and keep warm, then add onions and bell peppers to the skillet and sauté until tender. Add mushrooms, thyme, red-pepper flakes, and fennel seeds and cook until the mushrooms begin to give up their liquid, about 5 minutes. Pour in jarred spaghetti sauce and bring to a simmer. Return the chicken to the pan, cover, and simmer until the juices run clear when the chicken is pierced with a fork. Serve over noodles.
To get a jump-start on the sauce for braised meats, use spaghetti sauce as the base. Most sauces include the same ingredients you would be braising with anyway, such as onions, garlic, and tomatoes.
To make gazpacho when you don't have fresh tomatoes, use spaghetti sauce. Combine the sauce in a food processor along with fresh orange juice, cucumber, bell peppers, scallions, cilantro, and a little hot-pepper sauce. Pulse until the vegetables are just chopped. Thin with a little cold water, if necessary, then refrigerate the soup for 3 hours and serve chilled.