Cook's Illustrated Spanish-Style Garlic Shrimp
Cook's Illustrated Spanish-Style Garlic Shrimp
Cook's Illustrated Spanish-Style Garlic Shrimp
Serve shrimp with crusty bread for dipping in the richly flavored olive oil. The dish can be served directly from the skillet (make sure to use a trivet) or, for a sizzling effect, transferred to an 8-inch cast iron skillet that's been heated for 2 minutes over medium-high heat. We prefer the slightly sweet flavor of dried chiles in this recipe, but tsp. sweet paprika can be substituted. If sherry vinegar is unavailable, use 2 tsp. dry sherry and 1 tsp. white vinegar.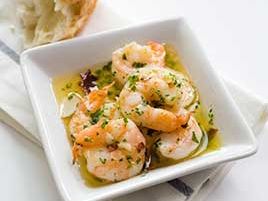 14 garlic cloves, peeled
1 lb. large shrimp (31 to 40 per pound), peeled, deveined, and tails removed
1/2 C. olive oil
1/2 tsp. salt
1 bay leaf
1 (2-inch) piece mild dried chile, such as New Mexican, roughly broken, seeds included
1 1/2 tsp. sherry vinegar
1 tsp. chopped fresh parsley
Mince 2 garlic cloves and toss with shrimp, 2 tsp. olive oil, and salt in medium bowl. Let shrimp marinate at room temperature for 30 minutes. Meanwhile, using flat side of chef's knife, smash 4 garlic cloves. Heat smashed garlic with remaining 6 tsp. olive oil in 12-inch skillet over medium-low heat, stirring occasionally, until garlic is light golden brown, 4 to 7 minutes. Remove pan from heat and allow oil to cool to room temperature. Using slotted spoon, remove smashed garlic from skillet and discard. Thinly slice remaining 8 garlic cloves. Return skillet to low heat and add sliced garlic, bay leaf, and chile. Cook, stirring occasionally, until garlic is tender but not browned, 4 to 7 minutes. (If garlic has not begun to sizzle after 3 minutes, increase heat to medium-low.) Increase heat to medium-low; add shrimp with marinade to pan in single layer. Cook shrimp, undisturbed, until oil starts to gently bubble, about 2 minutes. Using tongs, flip shrimp and continue to cook until almost cooked through, about 2 minutes longer. Increase heat to high and add sherry vinegar and parsley. Cook, stirring constantly, until shrimp are cooked through and oil is bubbling vigorously, 15 to 20 seconds. Serve immediately.