Backyard Championship Ribs
Backyard Championship Ribs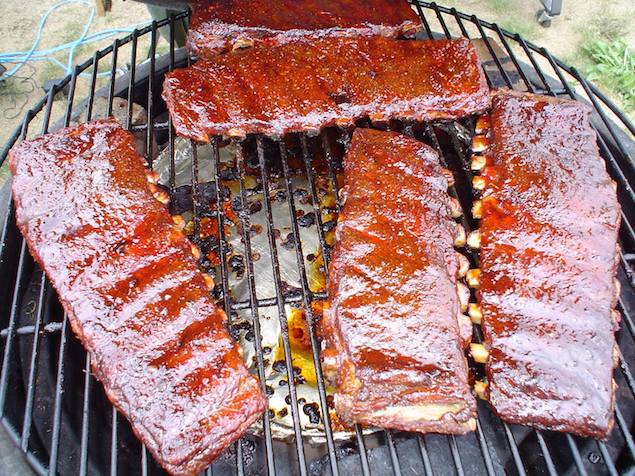 Backyard Championship Ribs
3 Slabs of St. Louis-Style Ribs or Baby Back Ribs, cut in half, membrane off and washed
1/2 C. Turbinado sugar
1 C. Big Time Barbecue rub (recipe follows)
1 C. honey
1 1/2 C. apple juice
2 C. Honey BBQ Sauce
About 30 minutes before they go in to the cooker mix the rub and the Turbinado sugar together and rub it on the ribs. Use about 2/3 on the meaty side and 1/3 on the boney side. Much of his will depend on your equipment, but you should cook them slow with a little bit of hickory and cherry wood until they are nicely caramelized and looking great. About 325 degrees with an indirect setup would be a good target temperature. One to one and a half hours is a good time guideline for this step. Use a rib rack if you need it for space. Remove the ribs to a platter or sheet pan and brush them all on both sides with honey. The next step is a tenderizing process. Put the ribs in an aluminum foil pan with a little apple juice in the bottom, about one inch. Stand them on end in the pan if you need to. Cover with foil and cook on low until tender. Again, 325 degrees and indirect would be a good target. If you have a hard time keeping your grill low, you'll need to check that the apple juice doesn't all cook off. Replenish it as needed. This step can even be done in the oven. The time for this step is one hour as a guideline; but again, this will vary depending on your equipment. Test the ribs by sticking them with a toothpick to see when they are soft and tender. (*At this point you could cool them down, wrap them separately and reheat later. This is a great way to take ribs to a tailgate party or to prepare ahead for a party at home.) Transfer the cooked ribs to a medium hot grill. Brush with the Big Time BBQ Glaze and flip for a just a few minutes. Cut in to pieces and serve.
Big Time BBQ Rub
1/2 C. salt
1/2 C. Turbinado sugar
1/4 C. granulated brown sugar
1 T. granulated garlic
1 T. granulated onion
2 T. paprika
2 T. chili powder
2 T. freshly ground black pepper
2 tsp. cayenne
1 T. thyme leaves
1 T. ground cumin
1 tsp. ground nutmeg
Combine all ingredients, mix well, and store in an airtight container. Note: For a quick mix, combine all ingredients in a resealable plastic bag, seal securely and toss until blended. Take to the grill with you and use as needed.