Meyer Lemon Marmalade
Meyer Lemon Marmalade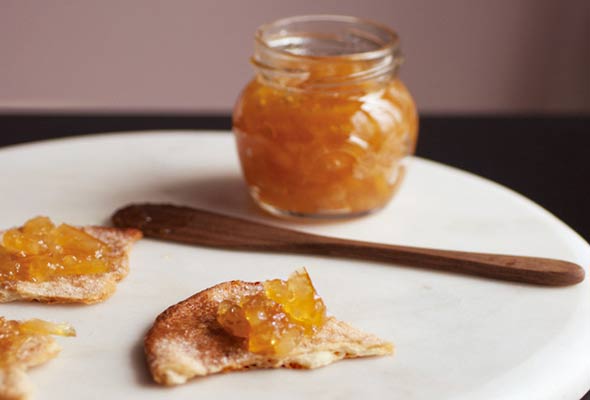 3 pounds Meyer Lemons (or any lemons)
4 1/2 C. Sugar (I use organic raw sugar)
2 oz. prepared pureed Ginger or 4 tsp. finely chopped fresh Ginger
7 C. water
Prepare water-bath canner with jars by bringing cool jars and cool water to a boil in canner. Turn heat down and let simmer until ready to use the jars.
Scrub lemons thoroughly. If they are not organic, scald with hot water to remove any wax and debris. Prepare lemon peel by cutting the peels from the lemons with a sharp knife or using a vegetable peeler. Avoid cutting into the pith (the white part). You should end up with long swirls of peel. Cut across the swirl into very small slivers. Place the peels into saucepan with 1 C. the water, add saucepan lid, and simmer long enough for the peels to soften – about 30 minutes. Remove from heat and set aside.
Meanwhile, chop the remainder of each lemon into small 1/4 inch pieces, retaining all the pith, fruit and seeds, and juice. Place these pieces into a cheesecloth and tie tightly. Place in non-reactive saucepan and cover with the water. Boil 1 hour. Remove the cheesecloth bag from the liquid and cool. The easiest way to do this is to place in a sieve over a bowl. When cool enough to handle, press as much of the liquid from the bag as possible. It will be milky and sticky – this is the good pectin that will aid in setting the marmalade. Discard the cheesecloth bag.
Now combine the softened peels, the liquid remaining in the saucepan, the additional captured liquid from the bag, ginger and sugar. Bring back to a boil, then lower heat to medium, stirring until sugar is dissolved. Continue cooking uncovered until the liquid reaches 220 degrees on a candy thermometer. Remove from heat.
Immediately spoon into jars and process for 10 minutes after water returns to a boil in a boiling-water bath. Remove jars from canner and cool on heat-proof surface. Check lids after 1 hour, refrigerate any unsealed jars. Let the remainder of the jars cool overnight. Label and date and store in cool, dry place.