Cook's Illustrated Scallion Pancakes
Cook's Illustrated Scallion Pancakes
Scallion pancakes should boast multiple paper-thin layers laced with scallions and just a hint of sesame flavor. The exterior should be brown and crisp while the interior retains a soft chew. We found 2 tsp. scallions per pancake was just right for bold allium flavor. Cilantro lent a great herbal flavor. Brushing a thin layer of sesame oil onto the pancakes before sprinkling on the scallions and cilantro added the right sesame flavor. As for forming the pancakes, we got the best results from rolling the dough into a pancake, sprinkling the flavorings over, rolling it into a log, then coiling it around itself like a snake and rolling it out into a pancake again. This was easier to do than expected and the result was a pancake with tender layers and evenly incorporated scallions.
We like these pancakes with the dipping sauce, but if preferred, you can omit the sauce and simply sprinkle with salt to taste before serving.
1 1/2 C. all-purpose flour
1 tsp. salt
1/2 C. warm water, plus extra if needed
1/4 C. vegetable oil, plus extra for brushing
2 tsp. toasted sesame oil
6 scallions, minced (1/2 C.)
2 tsp. minced fresh cilantro
1 recipe Scallion Dipping Sauce
Whisk flour and salt together in medium bowl. Add water and mix with dinner fork until combined. (If there are any floury bits left in bottom of bowl, add additional water, 1 tsp. at a time, until dough comes together.) Turn dough out onto lightly floured counter and knead until smooth and satiny, about 5 minutes, adding extra flour to counter or your hands as needed to prevent sticking. Transfer dough to clean bowl, brush with thin layer of vegetable oil, and let rest at room temperature for 30 minutes. Divide dough into 4 equal pieces and cover to keep dough from drying out. Working with 1 piece of dough at a time, roll into 7-inch circle about 1/8 inch thick on lightly floured counter. Brush dough round lightly with sesame oil, then sprinkle with 2 tsp. scallions and 11 1/2 tsp. cilantro. Following illustrations, roll dough into cylinder, then coil cylinder into round, tucking tail end underneath.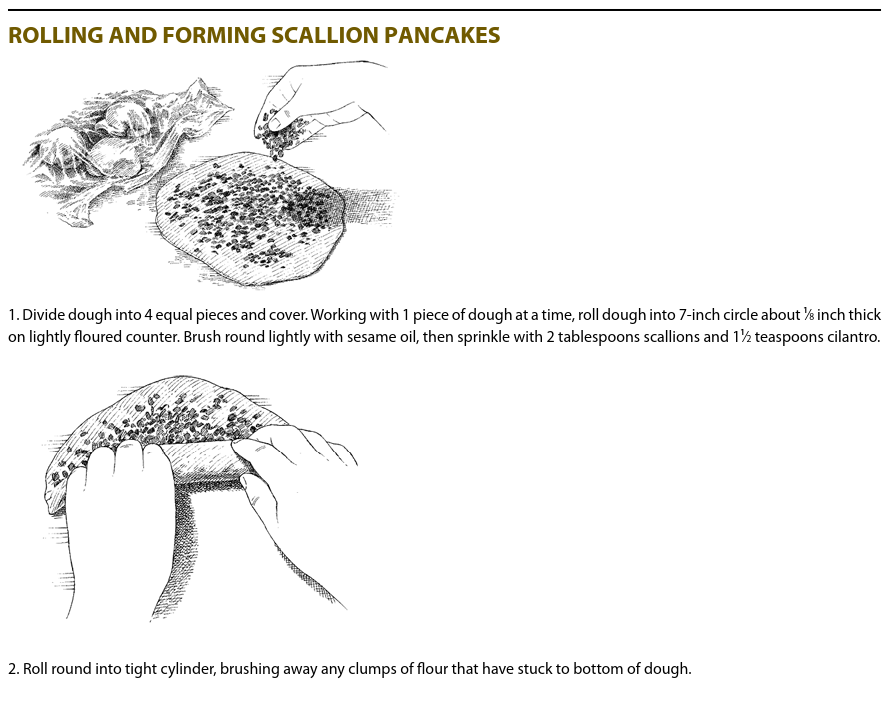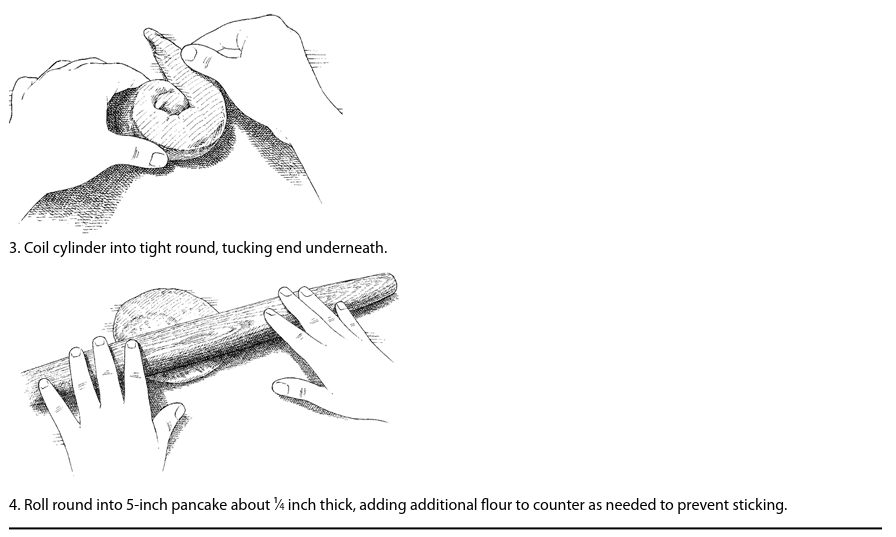 Roll into 5-inch pancake about 1/4 inch thick. Cut a small (1/2 inch) slit in the center of each pancake to allow for the release of steam that would otherwise cause the pancake to puff up. Set aside and cover while repeating with remaining dough pieces. Heat 1 tsp. vegetable oil in 12-inch nonstick skillet over medium heat until shimmering. Swirl oil to coat skillet, then add 1 dough round, cover and cook 1 ½ to 2 minute. Remove lid, brush top with oil, flip and cook another 1 ½- 2 minutes, covered. Remove lid and cook 40 seconds or so per side to get crisp. Transfer pancake to cutting board, tent with aluminum foil, and repeat 3 more times with remaining 3 tsp. oil and remaining 3 dough rounds. Slice cooked pancakes into wedges and serve with Scallion Dipping Sauce.
Scallion Dipping Sauce
¼ C. Soy Sauce
2 tsp. Rice Vinegar
2 tsp. Mirin
1 tsp. Water
1 tsp. Chili Oil
½ tsp. Toasted Sesame Oil
1 Scallion, minced
Combine all ingredients and serve.